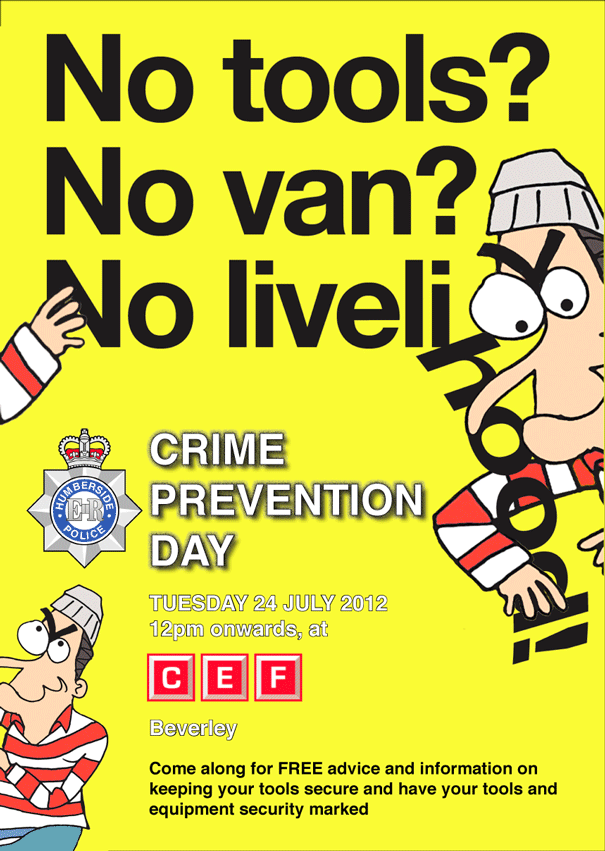 Police road shows will be taking place across Beverley at some of the largest construction retailer suppliers, urging trades people to take responsibility for their tools.
Between July and September Humberside Police will be holding a series of crime prevention road-shows at Beverley branches of MKM Building Supplies, City Electrical Factors Ltd, PTS Plumbing and Wickes, and would like trades people to come along to pick up a free crime prevention pack.
The crime prevention pack includes ultraviolet marking pen, sticker saying, "No tools are left in this vehicle overnight" and a crime prevention leaflet advising on how to protect your vehicle and tools.
There will also be free tool and equipment engraving available.
Vehicle owners are being urged to register their property with on a free property marking website www.immobilise.com, which is a national property register Humberside Police fully support.
Leaflets and demonstrations will also be available on the day.
The road-shows will be held in Beverley on the following days:
• Tuesday 24 July 2012, 0830hrs to 1130hrs – MKM, Swinemoor Lane
• Tuesday 24 July 2012, 1200hrs to 1430hrs – City Electrical Factors Ltd,
Unit 4/5/6/ Priory Road Industrial Estate, St Nicholas Road
• Wednesday 25 July 2012, 0830hrs onwards – Wickes, Swinemoor Lane
• Thursday 6 September 2012, 0830hrs onwards – PTS Plumbing, Unit C3, Grovehill Industrial Estate, Annie Reed Road
The campaign has been launched after a number of van owners were recently targeted on their own driveways, relieving them of expensive power tools which were left in the vehicle overnight.
The No Van, No Livelihood Campaign is directed primarily at self employed trade people, to be more vigilant and remove tools and valuable items from their vans overnight.
Trace Rokahr, Crime Reduction Officer for Humberside Police said: "Tools are extremely valuable possessions, and when stolen can impact hugely on small businesses. It is very important for van owners to remove tools and equipment from their vehicles when they are left unattended for long periods of time and especially overnight.
"I can understand after a busy day at work, as you turn off the ignition to your work van, the last thing you feel like doing is removing heavy tools from your van, but believe me, there are many criminals more than willing to do so, after you go inside. I am hosting these workshops to make small businesses and self-employed trade people consider 'what would happen to their business if their van was stolen, damaged or tools taken by thieves?' If you are self-employed, the chances are your business would grind to a hold. And no business means no income.
"Commercial vehicle crime is on the increase, but you can help to protect your livelihood by following some simple crime prevention advice:
• Always check your doors are locked before leaving your vehicle unattended
• If you have a garage, use it. If your van is parked on a driveway park up against a wall, hedge, or a garage to restrict access to the back or side of the van, consider installing security lighting. If neither of these apply, try to park in well lit areas.
• Consider alarming the vehicle or fitting an internal security cage or metal chest inside and ensure it is securely bolted down with a good-quality padlock
• When tools and equipment are not being used, ensure they are kept securely in a lockable store rather than in your vehicle
• Consider whether the storage area can be alarmed. If the equipment is portable, take it with you, including money, sat nav's and mobile phones.
• Don't leave tools in vehicles unattended or overnight, and place a sign in the window stating they have been removed
• Lock/immobilise vehicles and equipment when not in use
• Visibly mark your machinery and tools using an engraving kit or use an ultra-violet marker pen. Place a sticker in your window to say you have done so, the signage alone can be a very effective deterrent.
• Keep a list of tools, together with serial numbers and any identifying marks. You can do this at www.immobilise.com this will help to trace them back to you if they are recovered.
"We rely on information from members of the public in order to crack down effectively on this type of crime. If anyone is offered tools for sale in suspicious circumstances they should contact the police on 101."