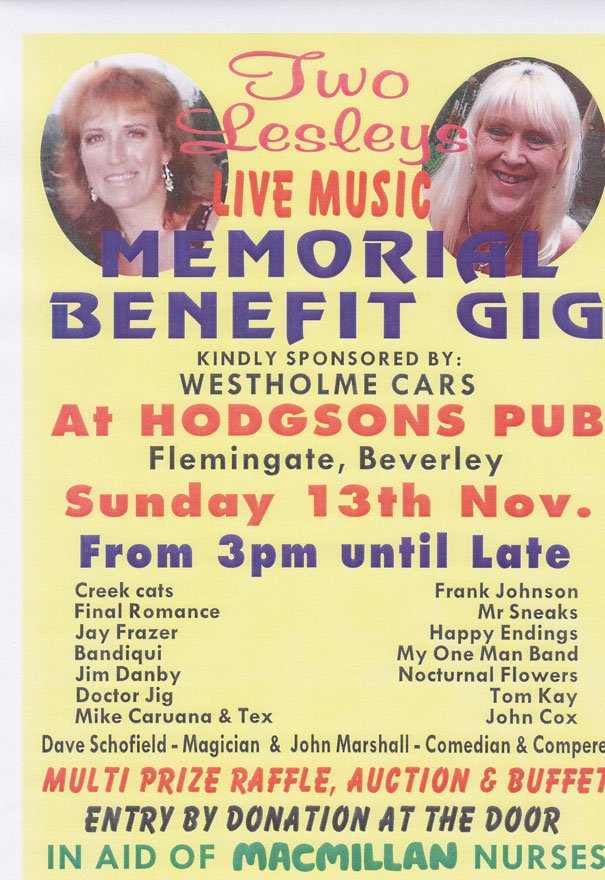 In fond memory of Lesley Caruana and Lesley Wilkinson & all affected by this unforgiving disease, please come along and show your support for this worthy cause. Please see below for full info.
CMM Productions on behalf of Macmillan Nurses are pleased to announce the following artistes are performing :-
BANDIQUI http://www.facebook.com/profile.php?id=1090248696
CREEK CATS http://www.facebook.com/profile.php?id=692579598
FARINO http://www.facebook.com/pages/Farino/145135538861607
THE FINAL ROMANCE http://www.facebook.com/TheFinalRomance
FRANK JOHNSON & BIG LOVE ENSEMBLE http://www.facebook.com/profile.php?id=1121813914
THE HAPPY ENDINGS http://www.facebook.com/pages/the-happy-endings/91038204196
JAY FRASER http://www.facebook.com/rubbishnight
JIM DANBY http://www.facebook.com/profile.php?id=1224471630
JOHN COX http://www.facebook.com/johncoxmusic
MR SNEAKS http://www.facebook.com/pages/Mr-Sneaks/119616601435878
THE NOCTURNAL FLOWERS http://www.facebook.com/pages/The-Nocturnal-Flowers/56201154369
DR JIG http://www.facebook.com/profile.php?id=699883518
PHIL WILSON AKA MY ONE MAN BAND http://www.myspace.com/myonemanband
THE CARUANAS http://www.facebook.com/BonitaSenoirita
TOM KAY http://www.facebook.com/profile.php?id=554652989&ref=ts
BUZZ COMEDY'S JOHN MARSHALL http://www.buzzcomedy.co.uk/consultancy.htm
DAVID SCHOFIELD MAGICIAN email magicdave73@yahoo.co.uk
Lesley Wilkinson was a Skidby girl who lived in Cottingham all her adult life. After school she worked at ARCO as a receptionist before getting married and having her children. She is mum of two daughters Nikki and Melissa. After having her family she returned to the world of work & began work in a field new to her, caring.
Her first caring role was at Orchard Garth Residential home in Hessle, where she worked mainly with elderly dementia sufferers. She soon found that caring was her niche and looked to develop further moving jobs and working for the Red Cross at their HQ on Chanterlands Ave., The Red Cross had the contract with East Riding Social services to provide support to carers of people in the community and Lesley was one of their first Support Workers. I'd known her as a friend since the mid 1980's but this is when we discovered that we were both 'single' & started to date, soon becoming true partners.
After a number of years of her doing this kind of work, East Riding Social services reorganised & decided not to renew the Red cross contract.
They began to operate the Carer's Support Service from within the council. Lesley applied to continue her old job but this time as an East Riding County Council Social Worker & was successful.
She started in her post and began studying for her diploma in Social work about 2001. She graduated with the DipSW in 2003 and was soon promoted to manager of the service at their headquarters in the Wednesday Market area of Beverley.
She was a genuinely caring person with a great interest in & love of people. Her work with carers in the community touched & improved many lives & she was loved by clients, friends & colleagues alike.
In July and August 2007 after a period of unexplained loss of her appetite, she underwent numerous tests. One of these was a laparoscopy i.e. camera & other instruments through the abdominal wall.
The test allowed the Doctors to recover small tissue samples for analysis from a small inflamed area of her stomach.
We went together to a specialist appointment at Hull Royal Infirmary in Late August where the results of her laparoscopy awaited.
The news was devastating….Lesley had a very rare form of stomach cancer known as 'Linitis Plastica'. This is a cancer of the connecting tissues that lie between the inner stomach lining and the outer stomach wall. Because of its position, the cancer is rarely detected early. It is normally discovered when it has virtually wrapped itself around the whole stomach [as it was in Lesley's case] and then started to erupt on the surface.
The stomach tends to lose all its elasticity as the disease progresses so that it can hold very little food. The cruelty of this particular cancer then truly shows itself as the sufferer can't eat to take on the nutrition needed to keep healthy enough to fight the disease. The restriction in stomach capacity & efficiency means oral medication may be less effective too.
In spite of advice from the medics that no form of treatment would cure her and that chemotherapy would probably be futile, she chose to have Chemo as it offered the only ray of hope… if unusually effective, we were told it may extend her life a little.
Lesley unfortunately saw no benefits from her Chemo, & quickly became weaker and lost weight.
She died 5 months after her initial diagnosis on 29th January 2008 aged 46.
Macmillan Nurses, Cancer Research UK & The Odyssey Centre in Barton on Humber were all organisations who provided worthwhile care, information & support during Lesley's battle with her disease.
As far as music goes, she was by a mile the single greatest inspiration and most fantastic supporter of all my musical endeavours. A constant presence with me in the early months of Face The Music at The Blue Bell Open Mic night till her illness made it impossible for her to continue.
RIP Lesley XXX