Darran Bilton of City of Leeds AC won last week's Airkool Walkington 10k for the second year in succession.
He completed the challenging course in 33 minutes, 22 seconds ahead of his nearest rival, Phill Taylor of Bridlington RR.
There was an exciting finish in the ladies competition with Carla Stansfield beating Katie Mellor to first place by a single second.  Both ladies recorded the same chip time but Stansfield was first to cross the line and took first prize.  They finished in 38:28 in 30th and 31st positions overall, recording the fastest time for a lady in this race for several years.
Stansfield was making her debut for Beverley Athletic Club and has made a big impression with such a fast time on the hills around Walkington.
Host club Beverley Athletic Club fielded 38 runners and won first prize in the men's team competition for the second year in succession.  City of Hull won the ladies' team competition and Beverley was second.
Richard Dawson, director of race sponsor Airkool Contracts Ltd, air conditioning and refrigeration specialists, finished in 304th position in 50:47 almost two minutes faster than last year.
10k results
Men
1st Darran Bilton 33:00 Leeds City AC
2nd Phill Taylor 33:22 Bridlington RR
3rd Andrew Parker 34:27 Bolton United Harriers & AC
Ladies
1st Carla Stansfield 38:28 Beverley Athletic Club
2nd Katie Mellor 38:28 Unattached
3rd Katy Rawnsley 39:03 Scarborough AC
There were 548 finishers.

Team competition
Men
1st     Beverley Athletic Club
2nd     York Knavesmire Harriers
3rd     City of Hull AC
Ladies
1st     City of Hull AC
2nd     Beverley Athletic Club
3rd     East Hull Harriers
The fun run, supported by Warners Sports Medicine, was won by Jonathan Lambert, an unattached runner.  He completed the 1.75 mile multi-terrain course in 9:41, three seconds ahead of Beverley's Ethan Dalton.  Beverley Juniors took the first three places in the girls' competition with Nicole Dawson finishing first in 10:08 followed by Jessica Chapman and Dayna Arnott.
Fun run results
Boys
1st Jonathan Lambert 9:41 unattached
2nd Ethan Dalton 9:44 Beverley Athletic Club
3rd David Mason 9:48 Kingston-upon-Hull AC Girls
Girls
1st Nicole Dawson 10:08 Beverley Athletic Club
2nd Jessica Chapman 10:13 Beverley Athletic Club
3rd Dayna Arnott 10:38 Beverley Athletic Club
There were 186 finishers.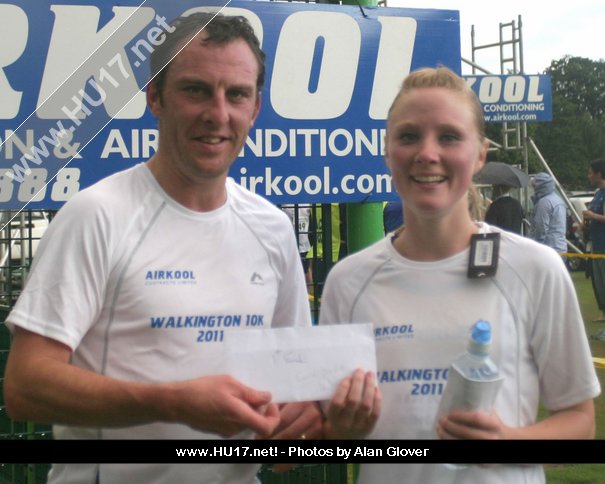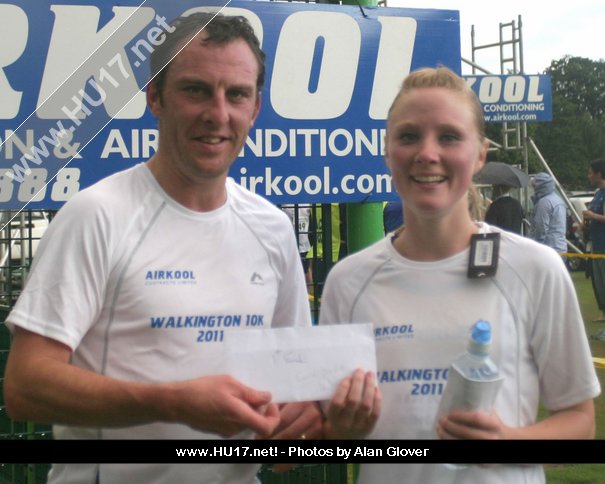 Beverley Athletic Club finishing times in the 10k:
James Pearson 34:50; Roger Tomlin 35:44; Matt Chadwick 36:42; Steve Peacock 37:14; Andy Johnson 38:04; Pete Fielding-Smith 38:14; Jim McGivern 38:20; Carla Stansfield 38:28; Brian Lazenby 38:38; Paul Clark 39:18; Mark Dawson 39:59; Thomas Hoyle 40;25; Steve Evins 41:26; Roy Steele 41:34; Alan Flint 42:16; Pete Watkinson 43:27; Jordan Arnott 44:20; Dan Hammond 44:41; Graeme Pittaway 44:45; Claire Traynor 44:55; Corey Arnott 45:28; Julie Donald 45:46; Kelvin Arnott 46:24; Michael Anderson  46:35; Neal Madden 46:46; Neil Sergeant 47:05; Kate Ladell 47:19; Bill Grieve 47:34; Kendall Arnott 49:01; Andy Grainger new PB 49:07; Steve Brotherton 49:10; Jackie Hardman 49:15; Amanda Ritchie 50:29; Jasmine Dalton 50:56; Chris Anthony 51:15; Chris Curry 52:38; Chris Woolner 53:25; Mariana Barbera 55:34.