With many events in December cancelled due to the weather, athletes from local running clubs were pleased to get back to normal by taking part in the third race in the East Yorkshire Cross-Country League last Sunday.
Over a hundred runners braved the icy road conditions to get to Thixendale and run the challenging course which started with a steep snow covered hill.
There was an excellent turn out by Beverley Athletic Club ladies who were rewarded with first place in the team competition.  Julie Donald, Claire Bracken and Helen Storr made up the team, finishing in third, fourth and sixth place respectively.
Although she has run for Beverley Athletic Club for over ten years it was Donald's first cross-country race for the club.  With snow and ice making footpaths and roads treacherous from the end of November she was forced to train off-road.  To her surprise she really enjoyed the experience and decided test herself in the East Yorkshire Cross-Country League.
She found the course and conditions tough at Thixendale and although her confidence grew as the race progressed she was still very hesitant on the steep downhills and lost ground to more experienced cross-country runners.  Donald acknowledged the encouragement she received from clubmate Claire Bracken near the end as they battled for positions over the stiles before the last downhill to the finish.
The Beverley men's team also had a successful trip to the country, finishing in second place.  As in the previous two races, it was Matt Chadwick who lead the club home, finishing in third place overall in 40.51.  Rob Snaith, Ian Boardley, Mark Dalton, Andy Johnson and David Millson made up the rest of the team.
There were 108 finishers and the race was won by Ben Mukherjee of Scarborough AC in 40.20.  The first lady to finish was Mel Bailey of City of Hull in 49.05.
After three races Beverley ladies have moved up to second place in the league and the men now lie third.
Beverley Athletic Club finishing times:
Matt Chadwick 40.51; Rob Snaith 42.26; Ian Boardley 43.52; Mark Dalton 44.54; Andy Johnson 45.31; David Millson 46.20; Neil Bant 46.48; Steve Evins 47.48; Andy Tate 48.36; Steve Williets 49.59; Julie Donald 53.45; Clare Bracken 53.51; Helen Storr 54.55; Bill Grieve 55.48; Nigel Braithwaite 55.58; Sam Allen 56.31; Pete Myers 57.43; Tony Beck 57.57; Brian Richardson 59.30; Jayne Dale 59.50; Amanda Ritchie 60.16; Carrie Smith 62.06; Andrew Brant 64.20; Debs Brant 64.28; Pam Atkins 64.39; Jo Dewar 65.19; Chris Hemmingway 67.9; Jacqui Dickinson 68.58; Rachel Cope 69.13; John Boardley 69.45; Mary Carrick 80.36.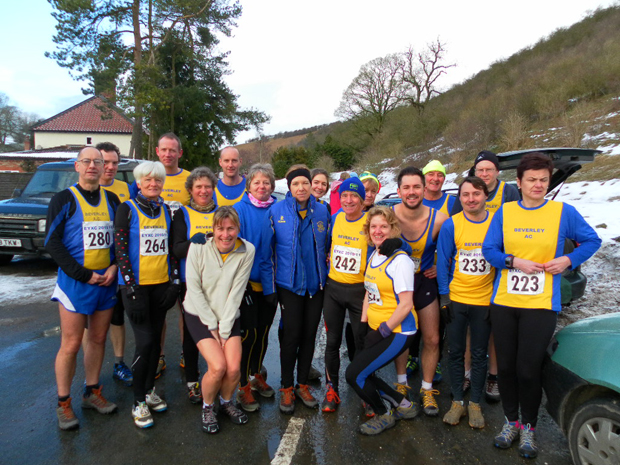 HU17.net Picture Gallery: Click on the thumbnail picture below to enlarge the image to full size
HU17.net Picture Gallery: Click on the thumbnail picture below to enlarge the image to full size