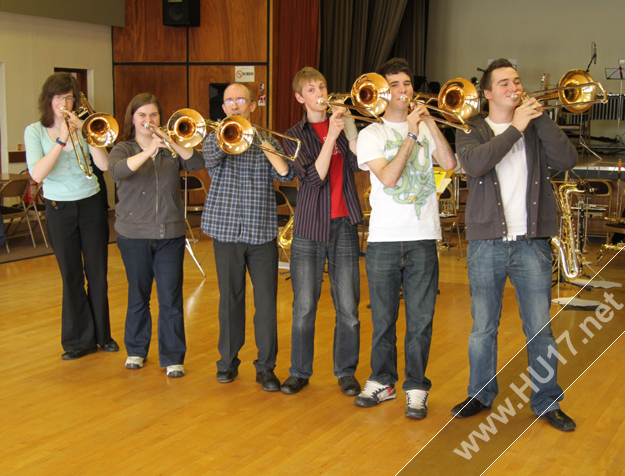 The British Trombone Society's latest Trombone Day is to be held at the Hexagon Music Centre, Coltman Road, Beverley, HU17 9LP on Saturday 2nd October 2010.
If you are a trombone player of any age and any standard, come along and get involved. Hopefully enough players will be found for a rendition of "76 trombones" as it should be played!
The day is very informal with plenty of opportunity to hear the amazing talent of the trombone section of the Black Dyke Band.
Chris Gomersall, principal trombone with the Brighouse and Rastrick Brass Band is offering masterclasses to anyone brave enough to stand at the front and play, and along with a recital by Stephen Lomas, winner of the BTS Solo Competition 2009 and time built in to play in the trombone choir and make-shift duets, trios and quartets, there should be something for everyone.
See programme on BTS website (www.britishtrombonesociety.org) for more details of how to take part.
See programme for more details of how to take part.
Admission to Open Day: free for BTS members. £10 for non-members.
(It makes economic sense to visit the BTS website and join before attending the
Open Day!)
All ages and abilities very welcome.
09:30 Welcome & Registration.
Please make it known if you wish to be considered for an opportunity to perform in the afternoon concert as part of a solo/duet/trio/quartet. Also, if you wish to take part in the solo master classes.
10:00 Warm up and trombone choir rehearsal with Brett Baker. (Main Hall)
10:30 Guest artist recital: Black Dyke Band Trombone Section and Stephen Lomas (winner, BTS solo competition 2010).
11:30 Trombone choir rehearsal.
12.15 Break.
Lunch not provided, although teas, coffees and light snacks will be available throughout the day.
12:45 Master class with John Barber, Principal trombone with the Foden's Brass Band.
13:15 Opportunity for quartet players to rehearse with Black Dyke Band Trombone Section.
13:45 Final rehearsal of the trombone choir.
14:00 Performance of solos, duets, quartetes and trombone choir
Venue –
The Hexagon Music Centre,
Coltman Avenue,
Beverley,
HU17 9LP.