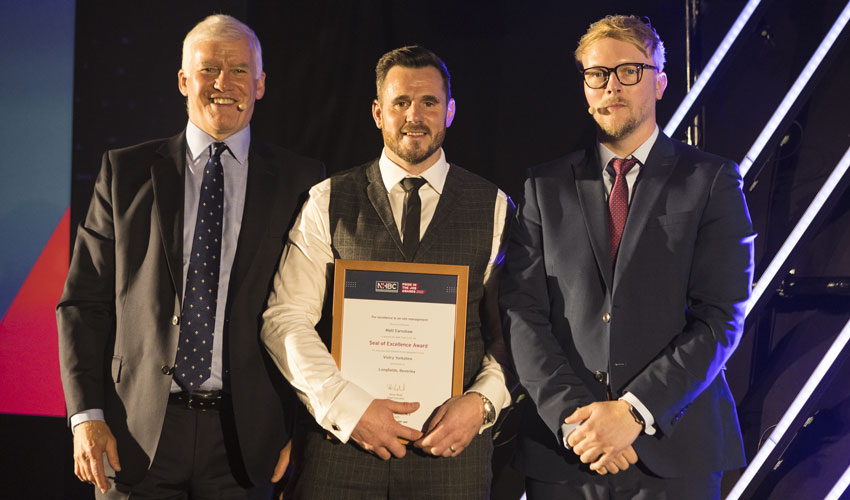 The National Housebuilder's Council (NHBC) has recognised a site manager in the latest round of its Pride in the Job awards for a housing development in Beverley, East Yorkshire.
He beat over 11,000 other site managers from 11 UK regions to win the coveted 'Seal of Excellence' award at an NHBC awards lunch.
Bovis Homes (part of Vistry Yorkshire) manages Longfields in Beverley, a development of three- and four-bedroom homes.
Three Vistry Yorkshire colleagues received Seal of Excellence awards at the awards lunch, including Matt, Ben Forster from its Mowbray View development in Thirsk, and John Firth from Wilberforce Park in Pocklington. The Seal of Excellence was awarded to Ben Forster for the second time in a row.
This year's Pride in the Job awards are not Vistry Yorkshire's first honour for the three site managers.
As part of the same Seal of Excellence award, another Vistry Yorkshire site manager, Nick Robinson, was also recognized for his high-quality site management. Like Ben Forster, Nick has received a Seal of Excellence award twice in as many years. Linden Homes' Bracebridge Manor development outside Lincoln is managed by Nick, a senior site manager.
In an earlier stage of this year's award process, all four site managers had won an NHBC Quality Award.
Vistry Yorkshire's regional managing director, Scott Stothard said: "I'm delighted to see not just one but four of our site managers gain top industry recognition in this year's Pride in the Job awards.
The daily commitment and drive they show to help us deliver excellence for our customers is fantastic and they should be extremely proud, as we all are at Vistry Yorkshire, of their incredible work."
Site managers who have achieved the highest standards in house building are honored with the NHBC's Pride in the Job award. A prestigious benchmark for exceptional site managers, it is the most highly regarded competition in the house-building industry.
Over the past 40 years, the award has been judged rigorously across six key areas, including consistency, attention to detail, leadership, interpreting drawings and specifications, technical expertise, and health and safety.
A five-star rating for customer satisfaction has been awarded to both Bovis Homes and Linden Homes by the House Building Federation.