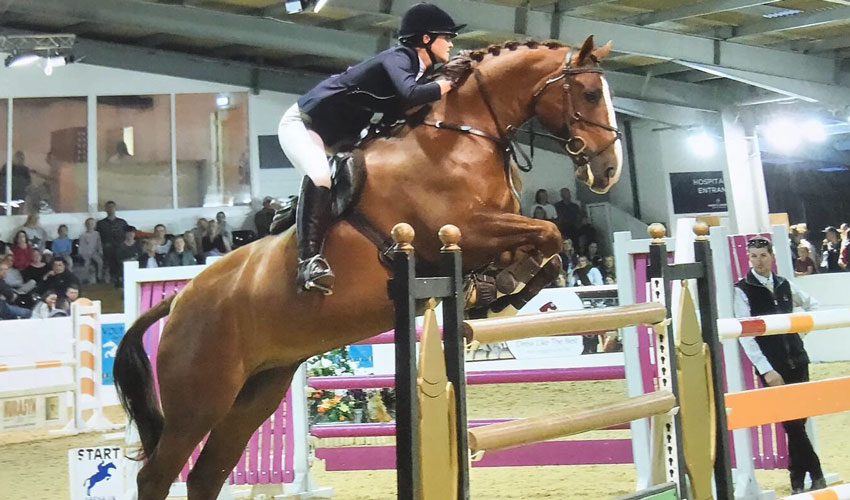 Olivia Hammond has been selected as a finalist for the prestigious British Equestrian Trade Association (BETA) Equine Thesis of the Year award.
BETA developed the Equine Thesis of the Year competition in the late 1990s to recognize equestrian undergraduates' achievements.
A single entry is being requested from universities and colleges across the UK that offer equine-related degree programs.
University Center's Equine faculty selected Olivia's thesis, titled 'Equine stride length, tracking distance, head and neck position with the German string training aid'.
When Rebecca Brassington suggested Olivia's thesis be submitted on behalf of the University Centre, she was shocked but thrilled.
Olivia commented, "It was such an honour for my work to be considered for this award and to have been selected as a finalist is fantastic."
"During the bio-mechanics elements of my degree programme, I realised that there was insufficient understanding and knowledge regarding training aids and how they influence a horse's core activity and any positives attached to this impact. I wanted to address this knowledge gap with my thesis to develop insight that is applicable to the entire equine industry."
This is an area of research that has very little academic coverage and which Olivia is passionate about. As a riding teacher and coach with a passion for riding and competing, Olivia has always used training aids but hasn't appreciated that many are available without research into their impact and effectiveness.
Several were promoting benefits that were contradictory to research findings.
Currently, Olivia is in the process of developing her own brand and training aids based on her research and expertise within this field.
The University of Limerick, Harper Adams University, and Hartpury University will also submit thesis submissions. Among the judges will be Liz Benwell, editor of leading trade title Equestrian Trade News, a highly experienced vet, author and veterinarian columnist for Horse & Hound, Karen Coumbe, Katie Williams, BETA Feed Committee member, and Dr Georgina Crossman, owner of GK Crossman Consultancy.
Judging will take place on Sunday 30 October at 2pm during an online event open to everyone.