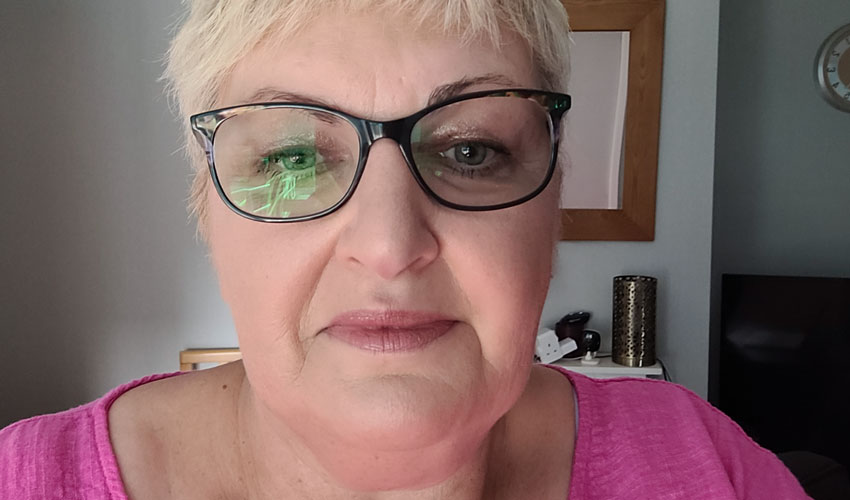 A 55-year-old woman from Beverley is sharing her experience of the MS Society's 'Living Well with MS' sessions so that other people can benefit too.
In 2017, Rachael Tomlinson was diagnosed with the primary progressive form of multiple sclerosis. Before she found out she had the disease, she had suffered from symptoms for years.
As a result of her MS, Rachael has many symptoms including weakness down one side, dizziness, balance problems, spasticity, bladder and bowel issues. She says fatigue exacerbates them all.
To get around, she uses a walker and an electric wheelchair. Her volunteer work includes the MS Society, RSPCA, and Unite Community despite being medically retired.
Rachael was involved in setting up the 'Living Well with MS' sessions as a volunteer and has taken part in lots of them too. She says they've been hugely beneficial:
"It can be invaluable what you get from other people. Sharing your own experience can be really invaluable too. It keeps you in the loop, there's lots of useful information in the webinars that you wouldn't necessarily get elsewhere. The MS Nurses and neuro physios know exactly what they're talking about."
Rachael also sat on the panel for one session, she added;
"I've recently taken part in the newly diagnosed session. It was really, really beneficial and I didn't go into it for that. It was over two weeks and we explained our experiences. This brought me back into the spotlight of talking about MS. I tend to brush over it now until it affects what I'm doing. I normally throw myself into support mode to try and help others. But it felt invaluable to share."
MS Society Support Sessions Can Be Accessed Online
The program offers a huge amount of support, including monthly information webinars. There are also well-being sessions which connect people with MS to others across the country. Topics include research advances, pregnancy and MS, and talking to children about MS.
There are over 130,000 people living with MS in the UK. Walking, talking, eating, and thinking are all difficult when you have MS, as it damages the nerves in your body.
Tracey Harrison from the MS Society runs the 'Living Well with MS' programme said;
"MS is relentless, painful and also disabling. It's an unpredictable condition and is different for everyone. That's why we offer such a huge range of support through our 'Living Well with MS' sessions so there's something for everyone from those who may have only been diagnosed recently to people who have had MS for many years.
"The sessions are a way of bringing people with MS together to discuss issues that may be affecting them from changing symptoms to talking about family life. We always aim to make them really friendly and open."
You can find out more about the MS Society's 'Living Well with MS' programme and the courses and webinars on offer at:
https://www.mssociety.org.uk/care-and-support/virtual-support-events