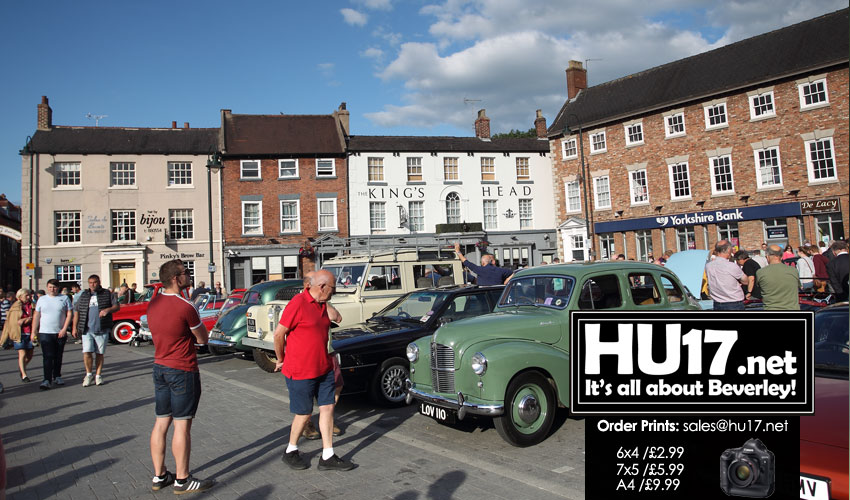 Beverley Town Centre will this week play host to a wide array of vehicles as the much loved EYTCC Beverley Midsummer Gathering returns to the town.
Taking place on Wednesday 22 June from 6 PM this hugely popular evening is an event which can be enjoyed by all the family.
Organisers of the event estimate there will be around 350 classic vehicles on show.
They will be displayed from Saturday Market all the way through the town centre along Toll Gavel to Wednesday market.
Thousands of people are expected to attend and view the cars and bikes. Over the years the event has seen some truly impressive cars some of which have been lovingly restored by their owners.
This event is a perfect opportunity to view up-close many makes and models of cars. However, people are asked to not touch any of the vehicles on display.
Aside from the displays, there will also be refreshments available on the street and in numerous venues around the town.
Beverley Midsummer Gathering Not To Be Missed
Known locally as the Beverley Classic Car Show it remains one of the top highlights on the events calendar for the town.
This year is a special one for the East Yorkshire Thoroughbred Car Club. One of the most active vehicle clubs in the UK, 2022 marks its 40th anniversary.
In the past, those behind the event speak highly of their show in Beverley. They say that Beverley is the only market town in the East Riding that can host this sort of event.
Given the prestige of the event, many people make an extra effort to display their cars travelling long distances.
Not surprisingly, the cars draw the big crowds. Motors like the big name Jaguars, including E-Types, Rolls Royces such as the 20hp 1923 and also the 1930 Phantom 11 Sedenca De Ville and American classics like the 67 Pontiac Bonneville and the world's coolest car, the Ford Mustang have blessed the show.
The event officially starts at 6Pm while it concludes at 9PM on June 22.