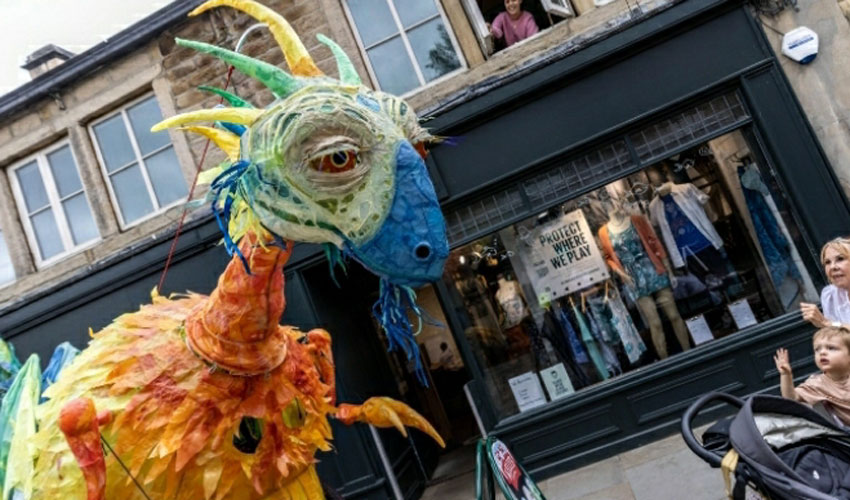 The world's largest showcase of British puppetry in Beverley this July is bringing classic fairy tales to life to wow families and kids in popular venues around East Yorkshire town.
Anna Ingleby, co-director of the Beverley Puppet Festival, said: "Over two days and three nights the festival is a gathering of all that is great in British puppet theatre and showcases some quite remarkable work right here in the heart of East Yorkshire.
"We are into our tenth festival and seventeenth year and people sometimes don't realise that when puppetry is done well it is very powerful and exciting for all ages; these universal stories speak not just to children but all generations, to parents, grandparents and carers.
"Giving a new take to classic fairy tales in Oldilocks and the Three Bears, Pinocchio, and Dragon, is both timeless and ageless, while also addressing our shared needs for fun, excitement and enjoyment.
"Having become the main festival in the UK for British puppet theatre there are many free outdoor shows, but also indoor shows that provide unique and magical experiences not always possible outside.
"Olidlocks is a funny and warm-hearted celebration of the classic story starring a naughty old lady…and three bears who love their breakfast; Dragon is an epic tale that blends fantasy, puppetry and digital animation, while Pinocchio is a fast-paced adventure exploring what it means to love."
In all, tickets are now on sale for more than 60 events, along with free outdoor acts, from over 40 companies between Friday, July 15th and Sunday, July 17th.
Oldilocks and the Three Bears by GarlicTheatre is at Toll Gavel Church Hall on Saturday, July 16th, 4.30pm; Pinocchio by Norwich Puppet Theatre Company, is at East Riding Theatre on Sunday, July 17th, 3pm; and Dragon by Life and Limb Puppets at Beverley Masonic Hall, on Sunday, July 17th, is at 10.30am, and 12.30pm. Tickets for each of the three shows are £6 or £5 with concessions.
Characterised by its openness, inclusivity and diversity, the Beverley Puppet Festival also has a clear outreach and accessibility element for audiences who are unable to attend shows in person.
"This is vitally important part of the festival, which we have grown a lot," added Anna, "and we are passionate about bringing inspiring puppet theatre to audiences who couldn't otherwise see it."
These include Eye of Newt's show The Hare and the Moon, a suitcase show with a tea light lantern-making workshop, visiting four care homes, a children's nursery, two infant schools and two special needs schools in the area.
Woodland Tales with Grandad by Pickled Image will be visiting Driffield Infant School in addition to its ticketed show at East Riding Theatre; and Indigo Moon Theatre Company's Seed Heart is scheduled for Anlaby, Hessle, Hornsea and Roos.
Five shows are available to watch as a live online stream, as well as live in-person at East Riding Theatre, including Woodland Tales with Grandad, Pinocchio, and The Hug by Long Nose Puppets; the adult/teen show Meet Fred by Hijinx Theatre Company and the adult show Big Boys Don't Cry from Opposable Thumb Theatre & Nordland Visual Theatre.
Tickets and full details of the full programme are on the website www.beverleypuppetfestival.com or via the new Beverley Puppet Festival app.