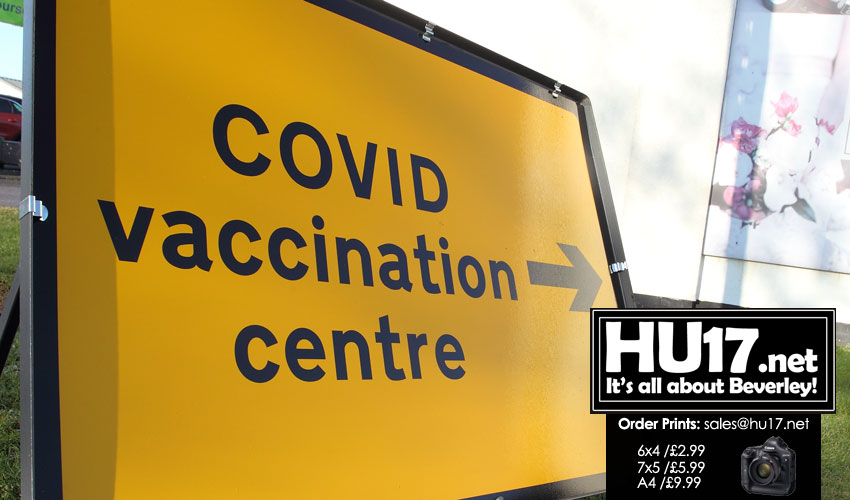 Local leaders would like to thank health and care staff for their hard work and the public for their support during the latest pandemic surge.
The Humber Local Resilience Forum (LRF) has declared a major incident due to the ongoing high levels of COVID-19 infection and the extra demand and pressures this is putting on local health and care services across Hull and the East Riding.
Whilst overall community infection rates may be stabilising, the number of staff on sickness absence or isolating is still high and is making it extremely difficult to maintain normal levels of service.
Chair of the Humber LRF is Chief Fire Officer Chris Blacksell and speaking on behalf of the partner organisations said:
"Declaring a major incident enables the agencies to come together to step up planning and the response to managing these increased pressures on local health and care services and helps us to work together more effectively across multiple organisations.
"We have implemented a number of measures to try and alleviate some of the pressures for example Humberside Fire and Rescue Service is expanding the medical response we already provide to older people who fall in their own home in Hull, more widely across the rest of the Humber area."
Across the Hull and East Riding area, care provided in people's own homes is being impacted by high staff absence rates which means that some individuals are having to be admitted to a care home whilst their individualised home care can be put in place.
However, some care homes are also having to close to admissions due to outbreaks, either covid or norovirus, and absence levels amongst care home staff is also high. Staff from local authorities are working with all care providers to ensure they can continue to meet people's needs but acknowledge that some services are becoming stretched.
Tracy Meyerhoff, Interim Director of Adult Social Care at Hull City Council said:
"It is important that people are able to return home as soon as they are able. Social care staff are working very closely with people who are being discharged from the hospital and their families to enable this to happen without delay. Alongside family carers, adult social care is also working closely with other agencies such as the British Red Cross and Hull Churches Home from Hospital to ensure people are discharged safely and have timely support to help them settle home, as well as provide assistance with shopping and meal preparation.
"Where a longer-term care package is required, we are working with all of our care agencies to provide this support. Together, we are ensuring that people discharged from the hospital are supported either formally or informally to recover at home and maintain their independence.
"Whilst the impact of a major incident is also felt across adult social care, we have good networks and processes in place to ensure the most vulnerable people are supported and cared for and that equally families are recognised for their valuable support."
Gill Vickers, Interim Director of Adult Social Services at East Riding of Yorkshire Council added:
"Across the country, the adult social care sector is under immense pressure and the picture in Hull and the East Riding is no different. The local councils are doing everything they can to provide support to those who need it and, in the interim, this may look different to what is normal for us during these challenging times.
"While staff recruitment and retention remain a problem for many areas, including adult social care, the effects of COVID-19 on the industry are still very prevalent – with great numbers of staff taking time off due to sickness or self-isolation.
"Getting vaccinated is a big step towards helping with these pressures, and every person who has had their booster is already playing their part as this remains the most important line of defence against becoming seriously ill with COVID-19 and requiring hospital treatment. If you haven't had your booster, or indeed any COVID vaccination yet, it isn't too late and I would encourage all those people who are doing a tremendous job working in community and residential care services to ensure they have all their vaccinations.
There are vaccination sessions available right across the area and appointments can be pre-booked or you can visit a walk-in service."
Chris Long, Chief Executive of Hull University Teaching Hospitals NHS Trust said:
"Unfortunately, some patients are waiting longer than we would like but NHS teams are doing everything possible to restore capacity when it is safe to do so.
"We would like to reassure people that health services are open for people who need it and by and large people are seeking medical help in the most appropriate settings allowing our A&E staff to focus on serious accidents and emergencies.
"Absolutely everyone can help reduce the spread of covid by wearing face coverings when required to do so, testing regularly, having their COVID vaccinations and sticking to self-isolation guidance if testing positive."
For advice on the most appropriate care for their needs, people are asked to visit NHS 111 online or call 111. This service is available 24 hours a day 7 days a week.
Chris Blacksell finished by saying:
"We want to say a big thank you to all staff both in health and social care and in all the LRF partners who are working under immense pressure for continuing to provide vital services and thank you to the public for playing their part in reducing the spread of the virus."