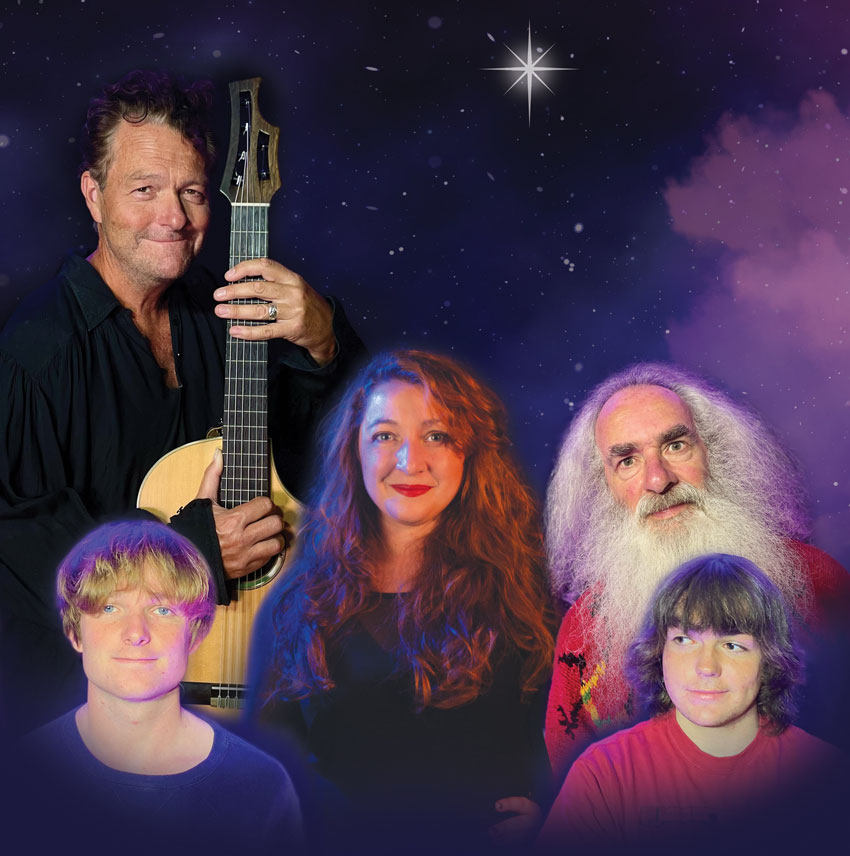 The guitarist and composer Richard Durrant heralds the start of another Christmas season with his family-friendly Candlelit Christmas Concerts.
With Christmas songs and wintry folk music, traditional carols and solo guitar music this will be a seasonal, musical feast and Richard's first live tour for nearly two years.
Richard will be joined onstage by his sons Django and Felix, legendary musician Brian Gulland and much loved Christmas regular the singer Amy Kakoura.
Amy and Richard have been exploring midwinter together for nearly a decade, sharing their deep love of the season's music (and robust defiance of genre). Amy's Greek/Irish roots seem to evoke medieval chant, folk & soulful jazz lending a unique depth to this collaboration.
Just this month Amy was a featured artist on BBC Radio 3's Words and Music and recently composed music for this year's Coventry City of Culture opening ceremony.
And now the one and only Brian Gulland has joined the tour! Once a Canterbury Chorister, Brian is a multi-instrumentalist and composer who has performed with London Pro Musica, Musica Reservata, the New Scorpion Band and Malicorne.
Most notably Brian is a founder member of legendary mediaeval prog-rock band Gryphon, in fact, the Candlelit Christmas tour comes hot on the heels of a string of Gryphon dates. Brian and Richard have become close musical friends with a shared love of early music and all things acoustic.
Richard's oldest son Django Durrant first joined the Christmas tour in 2019 on drums and percussion.
This year he'll also be taking on vocal duties and he has contributed a new song to the setlist for the first time. On his first professional tour Djangos' brother, Felix will play bass guitar and keyboards. Already a fine pianist Felix also composes, writes his own songs and plays the guitar in various open tunings.
Says Richard:
"The magic and intensity of playing music at this time of year can be as joyful as Christmas itself. As our planet careers towards another winter solstice my merry band picks up the story!".
2 December: Toll Gavel United Church Beverley
3 December: Lancaster Royal Grammar School East Road Lancaster
5 December: Ropetackle Arts Centre Shoreham-by-Sea
11 December: Ropetackle Arts Centre Little High StreetShoreham-by-Sea
15 December: Trinity Theatre Church Royal Tunbridge Wells
20 December: Theatre Clwyd Anthony Hopkins Theatre Mold, Flintshire
21 December: St Mary & St Peter's Church Wilmington