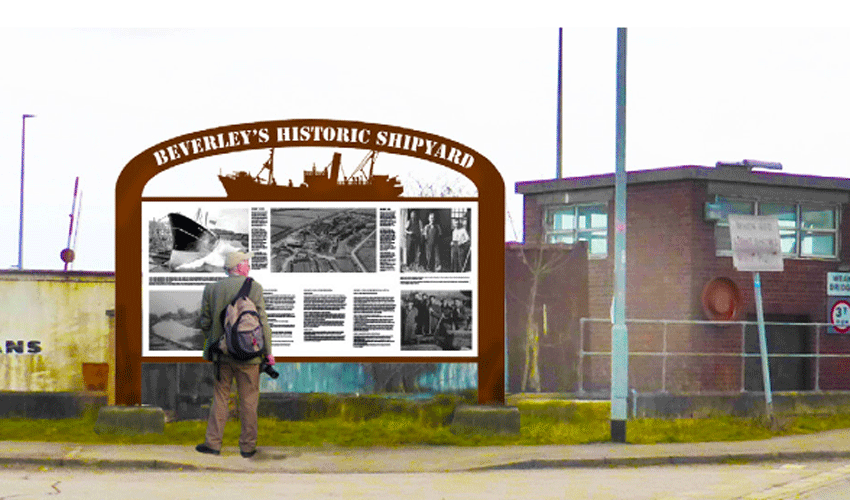 A tribute to Beverley's shipbuilding past is to be officially opened this week. Located by the River Hull on Grove Hill road the tribute highlights an industry that deserves to be remembered.
Employing hundreds of people the industry located in Beverley built over 1000 ships. The first iron ships were built in Beverley back in 1882 by Henry and Joseph Scarr.
Once built the launching of boats was an event in its self, often attracting large crowds. Part of the attraction was to get a good drenching when the ship hit the water.
Members of the public are invited to attend the unveiling which will take place on Friday 15 October at midday.
A spokesperson for those behind the project said;
"Beverley's former shipbuilding industry employed over 650 people, built 1300 ships, and contributed to Britain's WW2 effort."
"Many people are not now aware of this history but Beverley's shipbuilding industry deserves to be remembered."
"A memorial archway display board will be 'unveiled' to inform people of this wealth of history. The rusting arch evokes the factory gates and the information board has numerous photographs with explanatory text."
"The project was inspired by Howard Tomlinson MBE who sadly died before its completion but passed it on to the sculptor Peter Naylor."
"It has all been done by local companies and stands on land given by John Marin, the last shipbuilder in Beverley."
Iron Ship Building in Beverley video