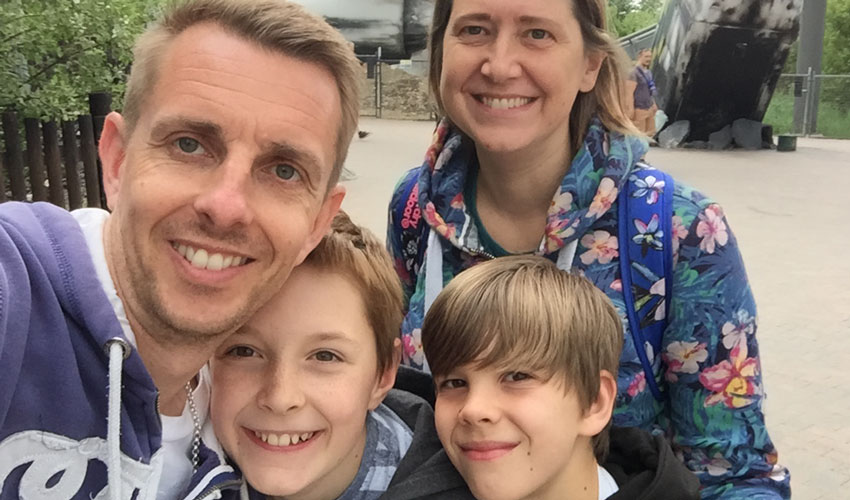 Dove House Hospice, the only hospice in the Hull and East Riding of Yorkshire area celebrates #hospicecareweek by showcasing what hospice care is really like.
In their bid to break down myths and stereotypes Dove House has shared a story from two young boys who witnessed first-hand what it is like to have experienced the outstanding care and compassion the hospice offers everyone that steps foot through their doors.
Ethan & Jared's Mum Beth spent two months at Dove House Hospice before she died there peacefully. She was exactly where she wanted to be. Her husband Carl and their two children, Ethan 15 years old and Jared 12 years old, had come to love the hospice and everyone in it.
Their time there was filled with laughter, joy and precious family memories that they hold dear to their heart. It's those moments that still bring them joy when they look back and think about their Mum.
Carl, Beth's husband shared:
"I honestly couldn't tell you where we would be if they hadn't scooped us up and put their Dove House wings around us. We can never repay the hospice enough for helping us be a proper family right until the end."
Ethan shared with us:
"The hospice is like a home from home, we did everything we would do that we would have done at home. That was very special for us and made us feel so much more relaxed than we thought we would be. The gardens are fantastic, we really enjoyed being able to go out there and play games with Janet. Sometimes you just need a minute and that's ok."
Jared attended Music Therapy with his brother at the hospice had this to say:
"We really looked forward to our sessions. We even recorded some of my Mum's favourite Disney songs. Music Therapy gave us the opportunity to just get anything out, sometimes banging on the drums and letting it all out is just what you need. You don't have to talk, you can just play. It has really helped me and helped make it easier to come back to the hospice after Mum died."
When you think of a hospice you don't necessarily think of a young family like this, but the reality is Dove House have lots of families just like Ethan and Jared's that come to the hospice for help.
Dove House Hospice is there for anyone who needs them, whatever the illness and at whatever stage of life.