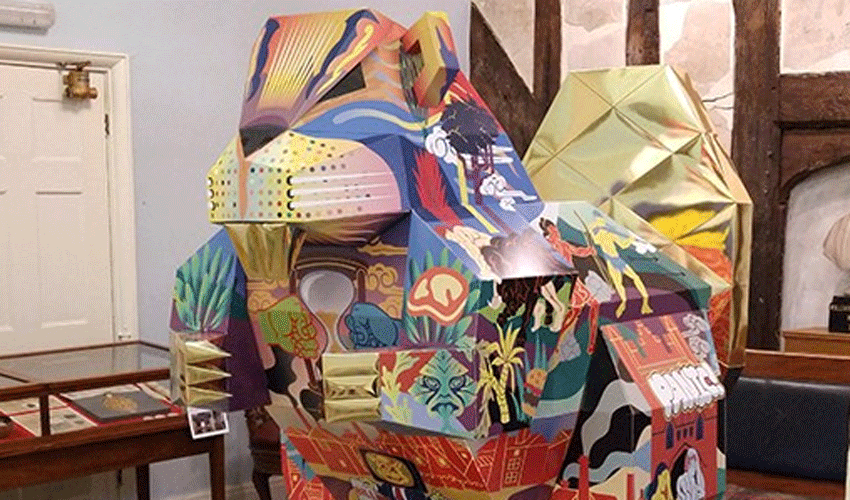 Following its display at The Treasure House in Beverley, the first contemporary art commission as part of the East Riding Visual Art Uplift has relocated to Beverley Guildhall for an extended exhibition.
After a hugely successful open call to artists, both nationally and internationally, Canadian artist, Ian Kirkpatrick, who is currently based in London, secured the commission to bring a contemporary twist to Beverley in the form of 'Beverlac'.
The commissioned artist, Ian Kirkpatrick said;
"I'm thrilled to have been selected for the commission. Beverley has such a deep history – stretching back to at least the seventh century – and I'm keen to explore it as part of this project."
"My work typically involves a great deal of research into an area's history, which I translate into bright, colourful surface decorations for my large-scale sculptural pieces."
"The artwork is covered in bold, playful iconography that reflects the local area and its heritage – including the ancient beavers that gave Beverley its name. I think there is something for all ages to discover within the work."
The Visual Arts Uplift has announced a free artist talk on Friday, 17 September at 4.30pm at Beverley Guildhall.
The talk will take a look at Ian's background as an artist, exploring past pieces and how working as a graphic designer at archaeological sites in Egypt and Turkey have influenced his artistic style.
An insight into the concept to the creation process of Beverlac, from approaching the brief and creating the concepts to the physical construction of the piece and the meanings hidden behind the iconographic design.
Tickets are free but must be booked in advance from https://www.bridspa.com/events/?entry=spx_303403