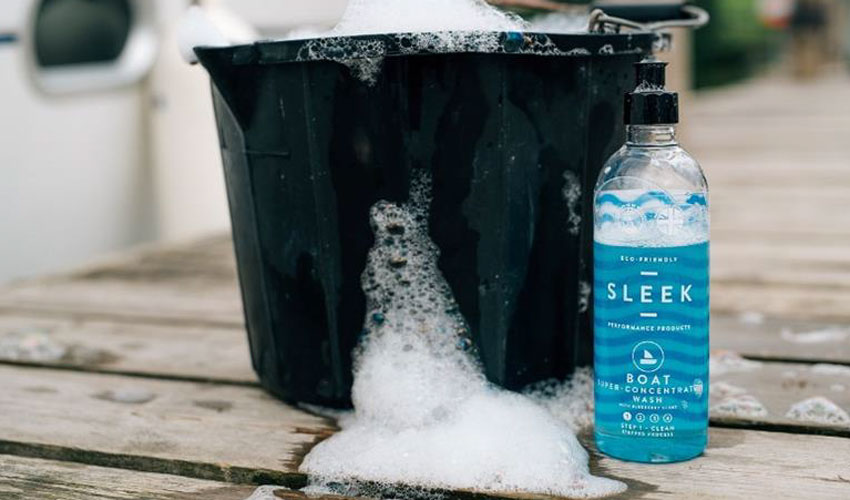 East Yorkshire-based Marine Safety specialist MRT has acquired Sleek Clean Care, a manufacturer of eco-friendly cleaning products.
Sleek was started by two University students Emma and Scott in 2017 and has since gone from strength to strength.
From developing recipes in their garage, the company grew and now distributes powerful and planet-friendly cleaning solutions for Boats, Bikes, and motorhomes all over the world.
Sleek uses pioneering chemical technologies to create powerful and safe formulations that are PH balanced, biodegradable, and phosphate-free, meaning they are harmless to the environment and marine life.
Now, with the experienced sales, marketing, and distribution team at MRT behind them they have the resources at hand to increase their exposure in the marine sector and hope to engage with interested distributors in the UK, Europe, America, and Australia over the coming months.
MRT's CEO Ryan Pettit said;
"I first came across Sleek in 2018 whilst visiting a trade show in Amsterdam, I immediately loved what the company was about, the modern brand, their ethical values, and their resilient vision to make a difference."
"MRT has been the market leader in Man Overboard safety solutions for over 40 years and whilst this new sister company will focus on different markets, we believe we can utilise our broad experience to take Sleek to the next level and really get the brand out there globally."
What does Sleek do?
Sleek have developed a range of high-performance, eco-friendly products that recreate the way people think about cleaning their Boat, Bike or Motorhome. They introduced a 4 stepped cleaning process to make it easier than ever to know which kind of product you need to keep your pride and joy looking Sleek!
Step 1 – CLEAN, made to remove dirt and grime with extreme ease.
Step 2 – DETAIL, for the finer, intricate areas.
Step 3 – PROTECT, to protect the finish and enhance the shrine.
Step 4 – RESTORE, for those areas to be restored back to their former glory.
Each product comes in different sizes, 500ml Bottle, 1L Eco-pouch, 2.5L,5L, and 20L Jerrycans. At SLEEK they are minimalizing their impact on the planet by using high-quality packaging so that their products can be used over and over again. For example, their 1L eco-refill pouches use 80% less water, energy and plastic than an equivalent-sized bottle.
Sleek co-founder, Scott commented;
"When Emma and I created this company in 2017 we could not have imagined it to grow to where it is today, we both have a huge passion for making the world greener and providing eco-friendly cleaning solutions."
"We really enjoy manufacturing products that have such a positive impact on the world and with MRT now behind Sleek, I believe they can ensure the brand gets the attention it deserves."
To find out more information please visit www.sleakcleancare.com