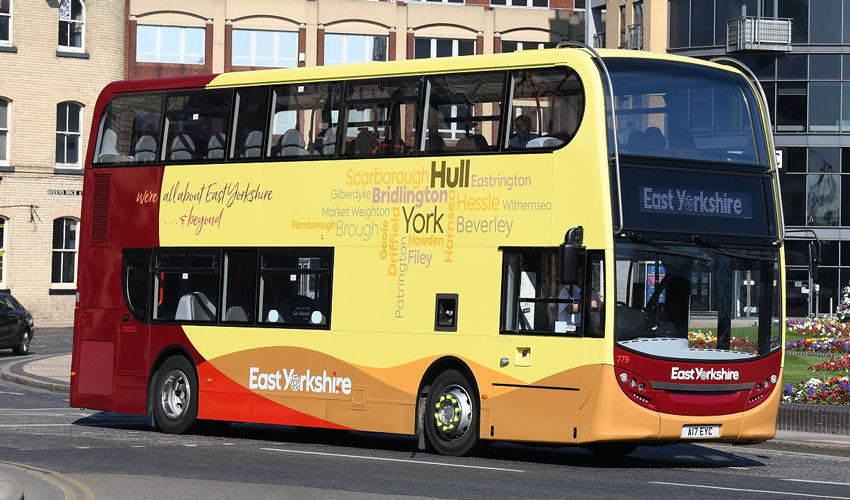 Bus company East Yorkshire has announced that nearly all routes will return to normal timetables from 16 May.
Since the start of the pandemic, bus passenger levels have been lower than normal as people were advised to stay at home as much as they could.
However, as national lockdown restrictions have lifted the number of people travelling by bus has gradually risen. Most services in our region have already returned to normal, and now East Yorkshire is adding extra journeys on busy city routes in Hull to allow more people to travel.
All East Yorkshire services will be returning to normal on 16 May, with the only exceptions being Hull-University Service 103, and Late Night Service 106, which will remain suspended for now and will return later in the year.
The step comes as social distancing restrictions are reduced across many sectors, with hospitality, tourism, retail and education venues all able to open up more.
During the pandemic, bus operators have been required to limit the number of available seats for customers. From 17 May, more seats will be available onboard, with only rear-facing and sideways seats out of use. East Yorkshire will continue to maintain enhanced cleaning standards to provide customers with reassurance.
Ben Gilligan, Area Director of East Yorkshire, said that the company has seen a rise in passengers since restrictions started to lift, and that adding extra journeys should help give people more choice about when they travel.
"In the first weeks of the pandemic our passengers were down by 90%, as people sensibly stayed at home," he said. "We were continuing to run buses to enable key workers to get to essential jobs, but our buses were almost empty."
"Since restrictions have started to lift and the vaccination programme has progressed, it's been great to see that more people are happy and confident to travel again. By running more buses, and opening up existing buses to more people, we can enable as many people as possible to do the things they couldn't do last year, such as visiting friends and family, going for days out and making the most of the summer."
There are still some common-sense things that people should do when travelling to keep themselves and others safe, including aiming to travel at quiet times if possible, washing and sanitising their hands when travelling, paying using contactless or buying an app ticket, and wearing a face-covering throughout the journey.
"Research has shown that public transport is safe to travel on," Ben continued. "We're looking forward to getting back to normal and continuing our mission to show that public transport is the best way to get around, with benefits for congestion, air quality and the environment."
You can view bus timetables and get ideas for new places to visit this summer by going to www.eastyorkshirebuses.co.uk, by ringing BusLine on 01482 59 29 29, by downloading the East Yorkshire Buses app, or by referring to your pre-lockdown timetable leaflet.