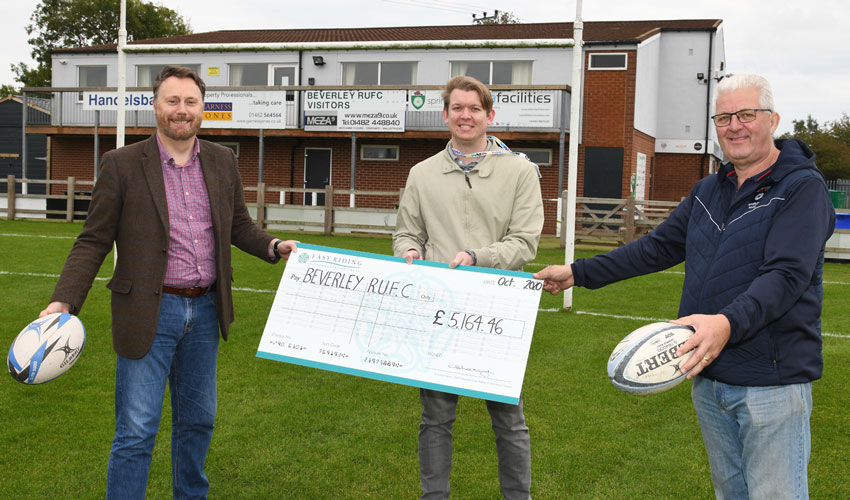 Beverley Rugby Union Football Club has been awarded £5,164.46 from East Riding of Yorkshire Council as part of Commuted Sums from local housing developments towards the replacement of two sets of corroded rugby posts.
Following an inspection last summer, the existing 15-year-old posts were found to be corroded and had to be removed.
The funding award has enabled new posts to be purchased and erected in readiness for the new season. Beverley Rugby Union Football Club contributed the remainder of the funding required for this project.
Brian Gilbert, Chairman of Beverley Rugby Union Football Club, said;
"We are thrilled to receive this money from the Commuted Sums team; it is greatly appreciated. We've been a rugby club with no rugby posts on two of our three pitches, and although we are not allowed to play competitive rugby at the moment, we are allowed to train in accordance with the government and RFU social distancing guidelines and were missing our iconic rugby union posts.
"Without rugby posts, we are arguably not a rugby club, but thanks to the commuted sums team we can now abandon plans to play cricket."
"Our previous posts had gone rotten and become potentially dangerous and in desperate need of replacement, so this is a very welcome relief."
"Council-backed schemes like the Commuted Sums initiative are critical to the support of local community sporting and non-sporting organisations, especially so in these extraordinary times when we have no events or income to help us raise funds to keep the club afloat."
Councillor Gary McMaster, the portfolio holder for enhancing communities, added:
"As a former rugby union player for 30 years, I am delighted that we have been able to support Beverley RUFC."
"The contribution comes from Commuted Sums provided by local housing developments as a condition of their planning approval, and supporting local sports clubs is making good use of the funds."