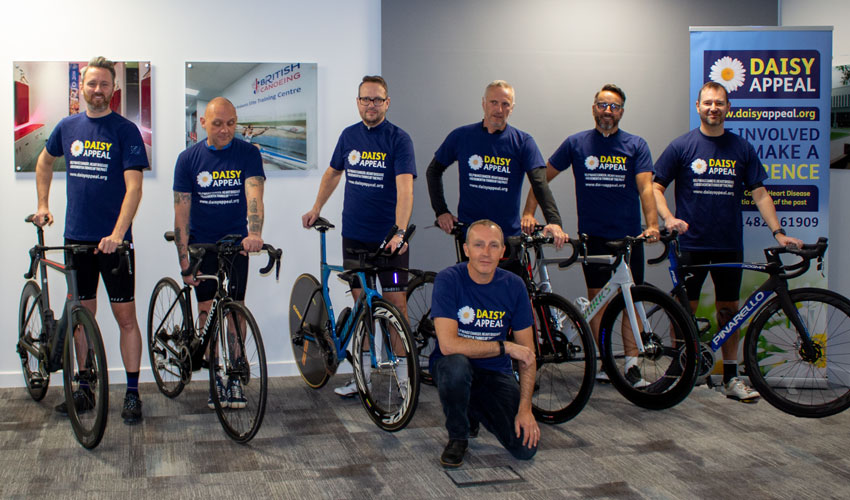 A charity cycle team is set to smash its target well before the riders set off after passing the five-figure halfway point even before confirming a new date for their challenge.
But the Paris 2 Benitachell 2020 team won't be coasting as they countdown to their test of 1,000 miles in nine days – they'll be putting as much effort into the fund-raising as their pedalling with the aim of leaving their initial £20,000 target back in the distance.
The six cyclists and their support driver with an average age of 50-plus committed to completing the ride in aid of the Daisy Appeal, which is working to improve accuracy and detection rates for cancer, heart disease and dementia in Hull, East Yorkshire and North Lincolnshire.
Their scheduled start date next month has been postponed because of the coronavirus but they have already raised more than £12,500 with a Just Giving page and with donation boxes dotted around the Integra Buildings site at Paull and at the Blonde Hair & Beauty salon in Prestongate, Hessle and the Beauty969 salon at Ferriby Hall.
Some of the team have already tackled a ride from John O'Groats to Land's End twice, including one to raise money for the Daisy Appeal. The third ride will see Gary Parker, Managing Director of Integra, and Pete Middleton, a self-employed plumbing and heating engineer – both veterans of the 2012 and 2017 rides – joined by four team-mates.
Lee Watson, a director at SDW Outsource Ltd, completed the 2012 ride and Neil Weatherald, who is retired, and Scott Ferry-Collins, a TV producer and editor, were part of the 2017 team. Steve Hardaker, who is retired, provided cycle support in 2017 and will repeat that role this time. Nick Cross, an executive medical director and GP, is a new addition to the team.
Gary was hopeful that the first milestone would be passed even before their original start date of Thursday 14 May on a route from Paris across the Pyrenees to Benitachell in Alicante province. The delay has prompted a rethink.
He said:
"A lot of the money so far has come from my friends, family and business contacts here, suppliers and sub-contractors. Pete takes a donation pot with him on his rounds and one of the guys has a wife who is a hairdresser and has a pot in her salon. The level of support has been fantastic and it's likely to be this time next year before we set off so we have to be looking to raise the target. We are paying for the trip ourselves so all the money raised will go to the Daisy Appeal."
The challenge is to complete the 1,000 miles in nine days to be reunited with their families, who will fly out to watch the riders cross the finish line.
Gary said:
"We're doing more than 100 miles every day for nine days and it's the back-to-back effort that hurts the most – I know that from experience because I was injured halfway through the first ride so for the second one we weren't raising money. It was a case of unfinished business and it went according to plan.
"The latest idea came from wanting to do another challenge and we felt if we were going to put in all that effort we should raise money for a charity."
The Daisy Appeal has a target of £8.2-million to complete a radiochemistry and cyclotron unit which will produce radioactive tracers at Castle Hill Hospital and provide the opportunity for patients to receive more personalised care leading to earlier diagnosis and giving them better treatment and quality of life.
Once the facility is fully functional patients from a wider geographical area will have access to its services, improving accuracy and detection rates for cancer, heart disease and dementia in Hull, East Yorkshire and North Lincolnshire.
The charity aims to play a leading role in clinically relevant PET-CT research over the next two decades and to show that the technology can be brought to the individual patient, quickly and effectively.
Andrew Horncastle, Chairman of Horncastle Group Plc and a trustee of the Daisy Appeal, said: "I rode with Gary on the 2012 ride which was tough and this one will take in the Pyrenees. I know Gary has been training hard and I wish him and all the team good luck. As a Trustee of the Daisy Appeal huge thanks for choosing to fundraise for our new Medical Imaging Research Centre."
To support the riders and the Daisy Appeal please visit their Just Giving page at www.justgiving.com/fundraising/paris2benitachell2020