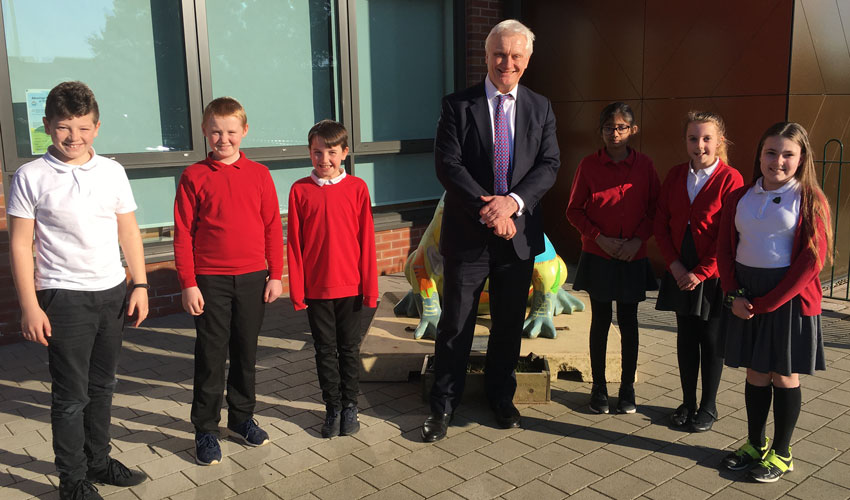 Graham Stuart, MP for Beverley and Holderness, has continued his longstanding support for Education & Employers' 'Primary Futures' programme with a visit to Beverley St Nicholas Primary School.
The campaign, which Graham helped launch in Parliament last year, aims to bring volunteers into schools to talk about their careers in order to inspire pupils and broaden their horizons about the world of work.
It uses a state-of-the-art database on which schools can search for volunteers based on their career sector, and invite them to the school to chat to the pupils about their jobs.
Speaking after his visit, Graham commented, "I had a great time at Beverley St Nicholas, where I had the chance to take some questions from the very inquisitive pupils there.
"I've been a supporter of Primary Futures for a while now, as I'm a firm believer that where you're from, or what school you went to, shouldn't limit what you want to become in the future.
"Primary Futures is a good way of showing pupils the huge range of opportunities open to them, and it helps to make jobs seem more accessible as well.
"While not everybody wants to go into politics, other volunteers – from vets to archaeologists – can help to inspire pupils to work hard and achieve their dream job."
"For me, it's about showing how what you learn at school is definitely applicable in the outside world. Even if it hasn't contributed directly, that enthusiasm for learning can feed into what you're passionate about outside school.
"The Government's been making a lot of positive noises about boosting opportunity in parts of the country that have previously been underinvested in, and I think that Primary Futures ties in perfectly with this agenda."
The Government has committed to investing £14 billion over the next 3 years, with schools that have the smallest budgets seeing the biggest rises. Although funds are still currently allocated by the local authority, provisional Government figures show a 6.35% increase to Beverley St Nicholas' total funding.
This amounts to £4,101 per pupil – above the Government's minimum per-pupil funding level of £3,750 per pupil. Graham had previously helped secure an additional £1.8 million a year for local schools, during his time as Chair of the Education Select Committee in Parliament.
Jonny Horsley, Assistant Headteacher at the school, invited Graham to speak. He added;
"We were delighted Graham was able to visit and chat to our pupils about his role as a Member of Parliament.
"We signed up to Primary Futures because very few children learn what they could grow up to do from other people. 45% said that TV, film and radio were the biggest influencing factors – which can distort their perceptions of what types of people can do what types of jobs."