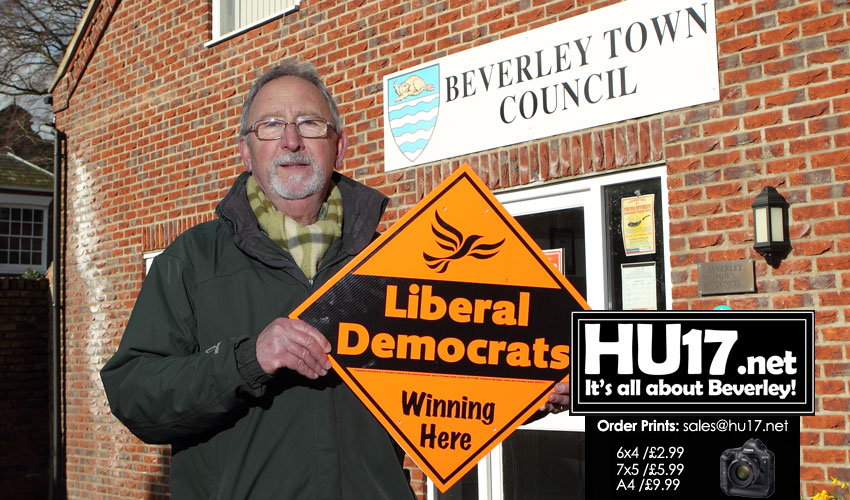 The Liberal Democrats have seen of the Conservatives as they held onto a seat in the Beverley Town Council By-Election.
A high turn out of just under 30pc saw the Liberal Democrats comfortably win the seat with a majority of 146. As a result of the poll, David Tucker was elected in the St Mary's West.
The result will come as a real blow for the Tories who have now failed to win a single seat in St Mary's at the last two elections.
The result also means the Conservatives still have no representation on Town council they once controlled.
Cllr Denis Healy had said in the run-up to this poll that the result would be a test for Libdems.
He said the By-Election would see if the residents in Beverley were happy with how their party were performing since taking control of Beverley Town Council.
More pleasing for the Liberal Democrats will be they earned more votes then both Labour and the Conservatives combined.
Speaking after the declaration, Cllr Tucker said;
"I'm delighted to have been elected tonight. I also want thank the electors of St Mary's West for the confidence they have placed in me and the Lib Dems to represent their best interests and to make this very special town of Beverley an even better place to live and work in."
"I am really looking forward to working with a very closely knit, hard-working and successful Lib Dem team. They have shown time and again that they are the party who listen to and are in touch with the people of Beverley all year round and not just before election day."
Liberal Democrats Surge In Beverley Continues With Comprehensive Win
Commenting on the result Cllr Healy said;
"I would like to congratulate David on this great result, and thank a great team of local Liberal Democrats who have worked hard to achieve this outcome."
"The result continues to demonstrate that the Conservatives can be beaten in Beverley."
"Local elections here are always a two-horse race between Conservative and Lib Dem, with people appreciating the hard work put in by Liberal Democrat councillors."
"Once again, the Labour party have shown themselves to be completely out of touch with the people of Beverley, finishing, as usual in a distant third place, and without a single County councillor in the whole of the East Riding."
The defeat means that the tories have lost at the ballot box nine times in recent elections. Since taking control of Beverley Town Council the Liberal Democrats have repaid voters by reducing council tax.
They have also got behind plans to bring additional events to the town by loosening the purse strings.
By-Election Results In Full
Tucker – Liberal Demoncrats 451
Stevens The Conservative Party 305
Fawcett The Labour Party 141
Levy Independent 64
Turn out 29.2%