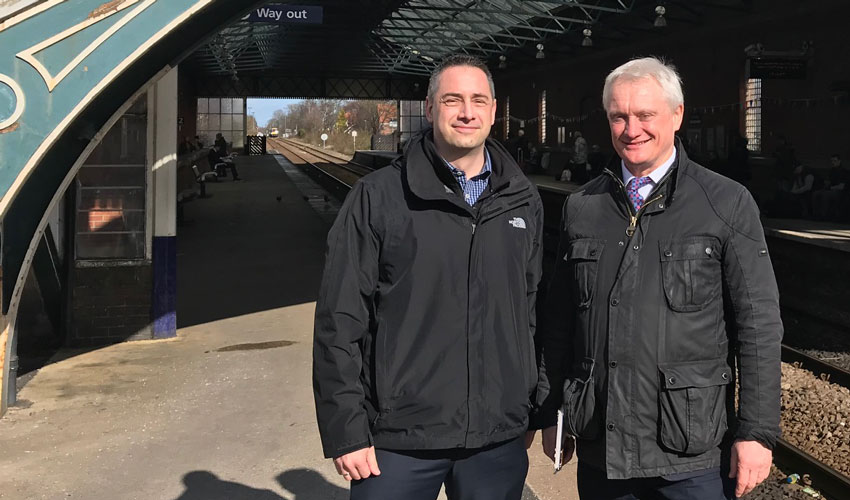 Graham Stuart, MP for Beverley and Holderness, met with officials from Network Rail as part of a visit to Beverley train station.
Mr Stuart met with officials to discuss the £600,000 investment into one of East Yorkshire's busiest stations.
The project will focus on refurbishing the station's Grade II-listed bridge, which is used by hundreds of commuters every day.
The money will go towards fully refurbishing the steps and the walkway, while the bridge's structure will also be strengthened to make it more resilient – helping to avoid potential train delays in the future.
Any corrosion found will be repaired, and new paintwork will protect the bridge from suffering environmental damage.
The work will be undertaken and completed at the beginning of 2022, and a temporary footbridge will be put in place throughout the work.
The visit was organised after the local MP, who is also championing the reopening of the Beverley to York rail line, put out a call on social media for local residents to offer suggestions as to how else Beverley train station could be improved, as he wanted the opportunity to be able to put locals' views to transport officials.
Graham said;
"I was initially contacted by constituents last year, who raised the condition of the railway bridge with me. The bridge is an impressive, historic structure, and it's many people's first impression of Beverley. As a regular user of services to and from Beverley myself, I shared their concerns about its current sad state.
"I got in touch with Network Rail to ask for an update on work being done to refurbish it, and I'm delighted that we've been able to secure £600,000 for the station.
"While I know the focus will be the restoration of the magnificent bridge, I thought it was important to pass on my constituents' views about what else they'd like to see at the station, and this meeting was a good chance to do just that.
Graham has previously campaigned for direct services to London from Beverley station. These were secured in 2015 after months of work to secure approval from the Office of Rail & Road, while additional morning and evening services were secured last year.
"I've also spoken with officials at Northern Rail, who are responsible for day-to-day maintenance of the station, about improvements to CCTV, more flowers and art displays – perhaps an extension of the art trail around the walls of Beverley? – and potentially even opening up bricked-up archways."
Following the meeting, Network Rail confirmed that they will be looking to improve other parts of the station in line with the suggestions raised, in tandem with their work on the bridge.
Northern Rail, meanwhile, confirmed that they will work with other bodies including the council and Beverley in Bloom on the CCTV and floral display issues.