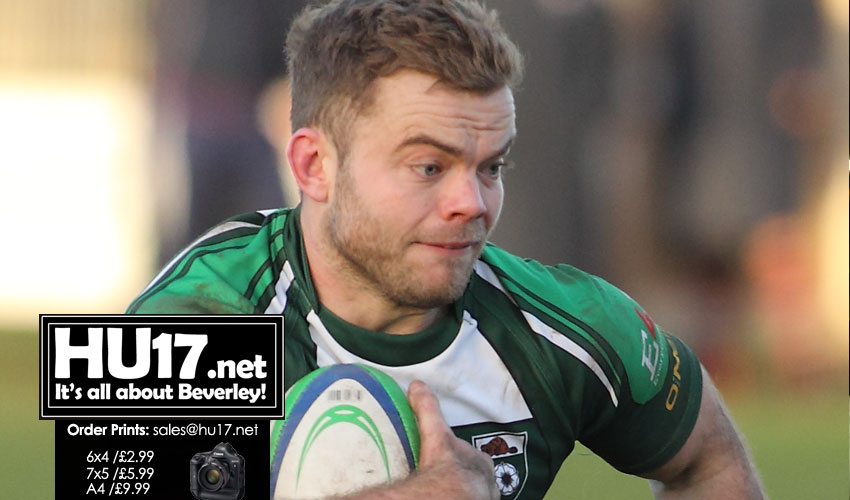 What an extraordinary match. The final score made it look close but it seldom was. After twenty-five minutes Beverley was cruising at 19 – 0 up and playing some fluent attacking rugby.
Fifty minutes later they were 40-26 down having been given a thorough going-over by a resurgent home side. A strong comeback in the last five minutes then brought them back up to within two points to earn them a bonus point.
From the start, Beverley took the game by storm. Within three minutes Luke Hazell had rounded off some smart handling to go over in the corner. Yet more slick movement brought a try for Alex McPeake, and after the pack had driven up to the line Liam Butler added a third, two of the tries being converted by Phil Duboulay. It was all Beverley and looked like being merely a question of how many more points would follow.
On half an hour it all changed. A Dinnington chip towards the Beverley corner led to a try for centre Rob Leivars which was converted by Jonny West. How much it was the result of this score who can say but Dinnington immediately upped their tempo and quickly took control.
Two further scores quickly followed from number 8 Dean Macaulay and centre Michael Leitch with West converting both. In the space of ten minutes, they had gone from 19-0 down to lead 21-19 at halftime.
Not only were they in the lead but they were now playing all the rugby. Beverley were struggling upfront in the set pieces and for long periods could get little possession. Dinnington were altogether more lively. They moved the ball smartly, handled well, and ran powerfully, some of their backs being as amply proportioned as their forwards.
Beverley for their part could make little of their limited possession. They could seldom get out of their own half and only when Hazell or Jack Foster had the ball in their hands did they pose any sort of serious threat. The ball hardly ever got as far as the wings.
Twenty minutes into the second half Dinnington deservedly went further ahead with a converted try by wing Alex Rimmington to put them two scores in the lead. Beverley did strike back with a converted try by substitute Will Turnbull but they were quickly again two scores adrift when Dinnington flanker Harry Williams waltzed through some woeful tackling for another converted try.
Beverley immediately squandered a good chance to get back into it by losing their own lineout on the Dinnington line in one of their rare sorties into the home 22. More home pressure was quickly resumed and when the Dinnington pack drove over from a five-metre scrum any lingering hopes Beverley might have had disappeared. Dinnington were in total control and at 40-26 it was as good as over.
Too late Beverley produced a sting in the tail. With less than five minutes left they at last attacked with venom. A half break by Duboulay led to the ball being moved across the field to Jack Houseman who was lurking out wide on the wing and he went over for an unconverted try.
Beverley immediately threw everything into it. Fittingly it was Rob Smith, probably Beverley's best player on the day, who had the final word. From his own ten-metre line he broke away and using his pace and swerve romped sixty metres through the home defence for the game's best try. Duboulay converted and that was that. Just three points short of a win.
So Beverley emerged with nothing more than two bonus points from a game they would have expected to win comfortably. This was just not their day. However, Dinnington apart from the first twenty minutes were by far the better side and never looked like a club fighting to avoid relegation. Come to that, Beverley seldom looked much like a side going strongly in third place either.