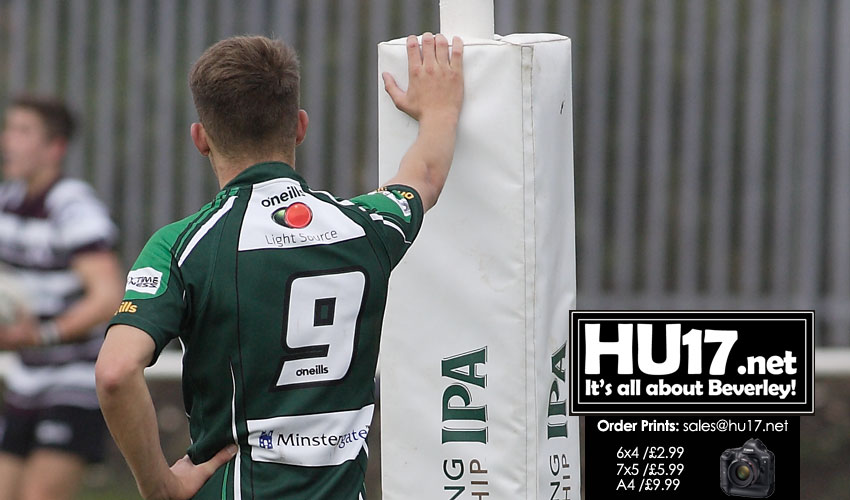 A visit from West Leeds is always a tough encounter for Beverley, especially so when given their form had dipped due to injuries and unavailability.
It was important that Beverley got back to winning ways to keep touch with the top two in the league.
The fierce cross pitch wind did have a negative effect on the handling skills and kicking, but Beverley put together a cohesive team performance that saw them run out worthy winners 37 – 22 in an entertaining game of rugby union.
Beverley started strongly moving quickly with excellent ball control after receiving the kick-off, they moved menacingly up the field and on 10 minutes captain Phil Duboulay was able to jink through and dot down under the posts for an easy conversion.
The omens looked good, but West Leeds hit back three minutes later demonstrating some slick hands themselves. The two teams continue to blur trade blows in what looked to be a very evenly matched battle on 35 minutes West Leeds took the lead after a penalty for not rolling away at the tackle, 7 – 8.
Ten minutes earlier a certain walkover try for Jockey Homes was deemed to be a forward pass, and then followed substantial pressure on the Beverley line, which was defended well. Just before half-time, Beverley did strike back to take the lead through Raymond Coates who was able to drive over after the breakdown following a scrum to finish the half 12 – 8.
Ten minutes into the second half Beverley inched further forward with a powerful unconverted try from Jack Housman. Just as we thought Beverley would push on from this point, West Leeds struck back again with a drive over try from a maul which was very well converted 17 – 15. In the move of the game quick hands from a tapped penalty, Rob Smith picking out Liam Butler and then Jack Housman with the final offload to Jacob Holmes to finish in the corner for an exhilarating try, 22 – 15.
The last 10 minutes were frantic, Phil Duboulay steadying the nerves with the converted offside penalty, and then two minutes later head coach and inside centre, Will Turnbull ran half the length of the pitch after a beautifully timed interception, showing pace that none of us knew he had easily converted. With the clock ticking out of the game was now won, but West Leeds not finished, capitalising from a drive over at the scrum, again well converted.
But it was Beverley to have the final say on the stroke of full-time as Beverley's scrum secured the ball and Isaac Keighley moved quickly inter-linking with Liam Butler who then offloaded to Luke Hazell, returning from a six-week absence at full-back, who then characteristically took the ball 70 yards up the pitch and into the corner to round off a very satisfying performance and good win, 37 – 22.
A very competitive game in challenging conditions, which both teams and the referee James Gray did well to produce an entertaining game of rugby. Both teams retired to the clubhouse for their post-match faggots and tatties. Man of the match for Beverley was tighthead prop, Danny Morris. The Beavers are at home again next week for a local derby against Hullensians, 2.15 kick-off.