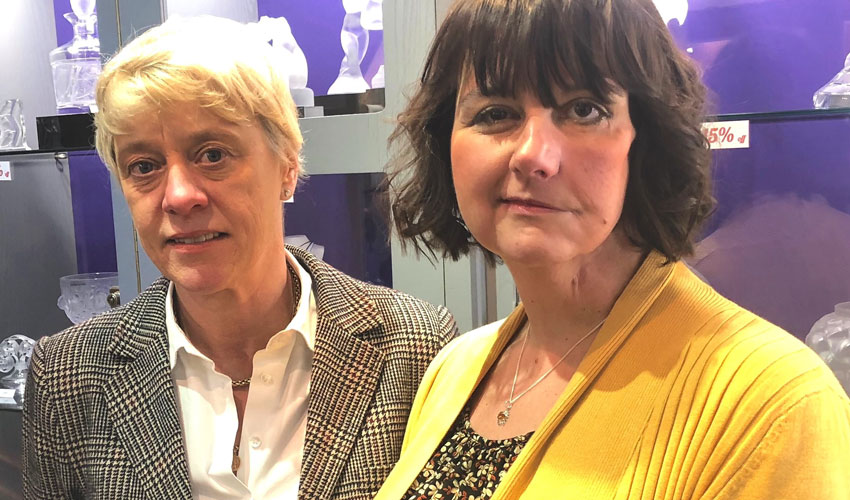 A mother of two young children has been presented with a special gift on behalf of a leading local charity after being nominated by family and friends for her bravery in undergoing treatment for cancer and a stroke.
Nicky Hern Holthuysen, who lives near Anlaby, received a specially hand-crafted daisy charm from Karen Guest, Partner at Guest & Phillips jewellers and a trustee of the Daisy Appeal.
The charm was made from silver with a natural citrine stone by Savannah Beal, a jewellery manufacturing and design apprentice with Guest & Phillips in Beverley, and was offered as a gift with members of the public invited to nominate deserving individuals.
The Daisy Appeal received recommendations from across the region on behalf of people who are battling cancer, mental illness and other diseases and conditions. There were also nominations for carers.
Nicky was chosen partly because of the number of people who supported her, and also because of her work to promote the Daisy Appeal since she was treated for cancer about 15 years ago.
She said: "I am really proud but also a bit embarrassed that so many of my friends think I am so deserving. One of them nominated me, then another, and then another. It's a lovely charm and Savannah has done a fantastic job."
Nicky told how she detected a lump at the side of her face as she was cradling a phone on her shoulder one day at work. After a biopsy was inconclusive Nicky was operated on by Professor Nick Stafford, who is now the chair of the Daisy Appeal. She also underwent plastic surgery and was recruited by Prof Stafford as a fund-raiser for Daisy, using her experiences to tell people about the importance of early detection and treatment of cancer.
Nicky married in 2008 and has two children, nine-year-old Toby and four-year-old Emeline. She continued her work helping cancer patients by moving into occupational therapy, but in 2018 she had a stroke. She is continuing her recovery and rehabilitation and has featured in a video to promote the Daisy Appeal.
She said: "I didn't want to work for the Daisy Appeal at first because I wasn't happy with my appearance after the surgery but Nick persuaded me and I did it for about five years. My friends have commented about how strong I was.
"Everything that has happened has been a lot to take but I just have to get on with it because this is my life now and I can't change it. I just have to accept it and work hard to be here."
Nominations for Nicky came in from family and friends and included:
"Nicky believes in herself and remains positive whilst caring for her young children and still manages to look after her home and husband. That is not easy for any mother never mind anyone who has gone through the trauma of cancer treatment and a stroke which has sadly made her life a little more challenging. However, a challenge is what Nicky overcomes in her daily life, such an inspiration to all those who know her. I could not think of a more deserving individual."
"She is truly amazing. Life has thrown her way to many curveballs and she just bounces back stronger every time. She's raised so much money for the daisy appeal over the years. She truly is an inspiration to everybody around her."
"The strength, courage and determination she demonstrates have never ever ceased to amaze her family and friends, we are all astounded by her speed to recovery!! It is beyond words how proud we are of her and love her dearly."
"No matter how many times she gets knocked down, she picks herself up, dusts herself off and challenges life harder!"
"She is the most amazing inspirational lady who has jumped so many hurdles in her life and has worked tirelessly for the Daisy Appeal. A well-deserving recipient."
"She has been through many dark days but gets on with it with her steely determination. We are so proud of her."
Karen added: "We were really impressed with Nicky's resilience, determination and passion for the work of the Daisy Appeal based on her personal experience of receiving treatment. We were overwhelmed with remarkable nominations which were both humbling and inspiring. I am pleased we were not only able to present Nicky with her Daisy necklace but also recognise everyone else who was nominated with one of our unique Daisy Appeal teddy bears."
Savannah, who worked as an apprentice motor mechanic before moving to the workshop and showrooms at Guest & Phillips, made the daisy in recognition of Karen's work for the Daisy Appeal. Karen then decided to offer it through the Daisy Facebook page as a New Year gift.
Claire Levy, Fundraiser for the Daisy Appeal, said: "We had a fantastic response to the call for nominations and we received so many heartwarming and inspirational stories. We are so grateful to Savannah for coming up with such a lovely idea and to Karen for offering the daisy charm to support the campaign.
"We are also grateful to everybody who took part and most of all to Nicky for her continuing efforts to promote the Daisy Appeal. It's nice to be able to give her something special as a token of our appreciation."
The Daisy Appeal has a target of £8.2-million to complete a radiochemistry and cyclotron unit which will produce radioactive tracers at Castle Hill Hospital to improve accuracy and detection rates for cancer, heart disease and dementia in Hull, East Yorkshire and North Lincolnshire.
The new facility will provide the opportunity for patients to receive more personalised care leading to earlier diagnosis and giving them better treatment and quality of life.
Once the facility is fully functional patients from a wider geographical area will have access to its services. The charity aims to play a leading role in clinically relevant PET-CT research over the next two decades and to show that the technology can be brought to the individual patient, quickly and effectively.
To find out more about the Daisy Appeal and to see the video featuring Nicky please visit www.daisyappeal.org