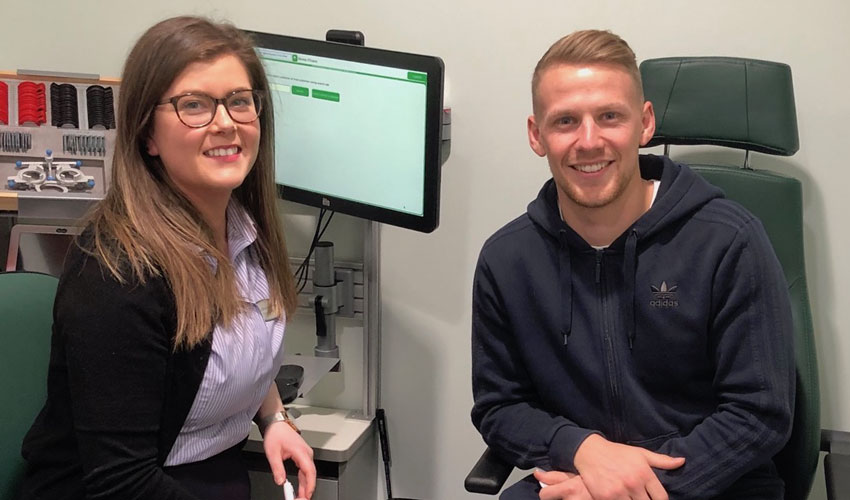 Hull City star Stephen Kingsley visited Specsavers at Kingswood Retail Park today to ensure his vision is in tip-top condition ahead of the team's upcoming clashes with Birmingham and Charlton.
As sponsors of Stephen, the Specsavers store is keen to do its part in giving him every advantage possible on the field, including crystal clear vision.
After seeing the results of his test, the defender spoke about the importance of eye health and the impact it has on the game.
Stephen comments;
"It was great to come into the store for the check-up and I was very relieved to hear that I've still got 20/20 vision! Out there mid-game, eyesight is vital, you need to be able to track the ball, have good depth perception and excellent peripheral vision."
He concludes;
"Eye conditions can easily impact on a team's performance and sway a game in favour of the opponent. As a result, I would recommend everyone, regardless of their sporting skill, get their eyes checked."
Stephen's eye test included use of the store's Optical Coherence Tomography (OCT) machine, a cutting-edge piece of equipment usually found in hospital eye departments. It is used for a variety of functions including screening and management of conditions such as age-related macular degeneration, glaucoma and diabetic retinopathy.
The technology uses a safe laser light source to produce a structural scan of the eye, including layers of the eye that would not normally be visible using traditional eye testing techniques. The results are similar to an ultrasound or MRI scan, in that it creates multiple scan slice images that are built up to form a total image.
David Proudfoot, Specsavers store director adds;
"It's evident just how important good eyesight is in sports such as football. With Stephen's 20/20 vision, things are looking good for the Tigers as the season progresses."
"We're delighted to be supporting Hull City and I hope the partnership encourages fans to maintain their own health with eye tests so they can enjoy the game to the fullest."