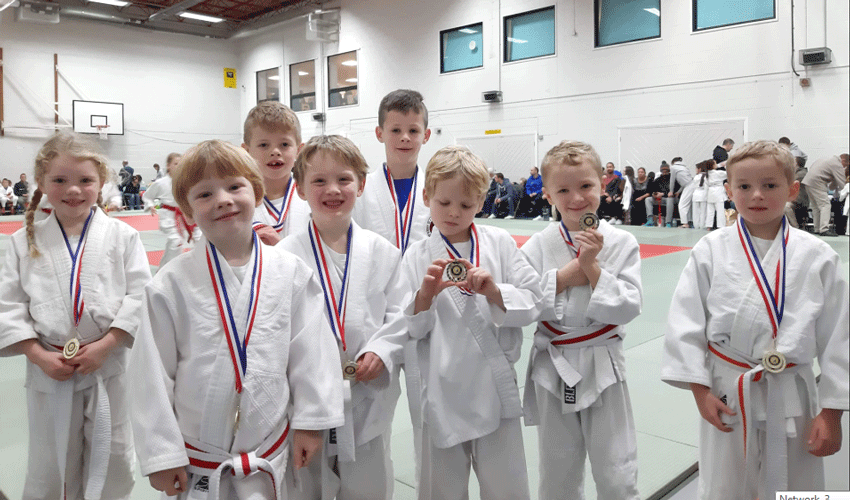 East Yorkshire Judo Academy was out in force at the Goole Christmas Championships with many of their very young players competing.
For a number of players, it was their first competition. The club was very well represented by children as young as 6 years old all the way through to senior black belts.
The day started with a judo festival for the 5 – 7-year olds. Judoka under the age of 8 do not compete and so they all took part in an activities session designed to give the players confidence in a competition environment.
8 young judoka from East Yorkshire Judo stepped on to the mat and after an enjoyable session, they all received a medal for their efforts. Congratulations go to Joey, Arthur, Owen, Oliver, Elliott, Oscar, Syrus and Lily.
In the under 12's category Gold medals went to Sophie Buckle, Sebastian Gell, and Beau Chan. Lavinia Woolcock and Ava Lines both earned themselves Silver medals and 5th place finishes went to Riona Horst, Owen Hostick and William Matthews.
Next up were the under 16 fighters, seasoned players James Hindle and Spencer Cammish both won Silver medals and Ryan Broadbent showed ever-increasing confidence to take a Bronze medal.
Finally, it was the turn of the seniors to show off some technical judo and exceptional timing. They won a Bronze, Silver and Gold between them for Gareth Cranmer, James Hindle and Tommy Jackson respectively.
All in all, it was a busy day for the coaches of East Yorkshire Judo Academy having so many players in attendance but as always every judoka displayed discipline and enjoyed the experience of competitive judo.
Dave Platten, the coach, said how he was impressed with all of the efforts that he saw more so with the confidence shown by those that had not been exposed to a competition environment before.
Coach Steve Shepherd also agreed with Dave adding that the regular training and drilling of technique from the more experienced players was really showing and that that was a testament to their work ethic.
Well done to all of the East Yorkshire Judo Academy players that took part in the Goole Christmas Championships and good luck to those fighting in the upcoming British Championships in Sheffield.
If you're interested in trying judo for you or your child please contact Danny on danny@eastyorkshirejudoacademy.com for more details. Classes start from 5 years old upwards.