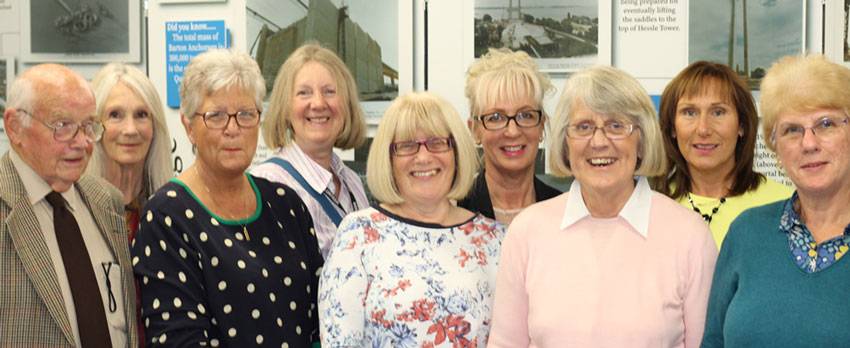 A travelling exhibition revealing the hidden histories of the Humber Bridge will get underway this week.
The exhibition is part of the Hidden Histories of the Humber Bridge project – an oral history project which aims to capture the stories of people whose lives' have been shaped by the iconic, Grade One listed structure.
The exhibition kicks off Baysgarth Leisure Centre, Barton-upon-Humber, on Thursday, and takes in Hull Central Library, Hull Minster, Hessle Town Hall and East Riding College. It ends at the Water's Edge Country Park and Visitors Centre, also in Barton-upon-Humber, on December 15th.
It will be staffed by volunteers from Absolutely Cultured – a charity aimed at creating an enhanced and improved cultural landscape in Hull – who have also worked tirelessly to collect local stories and come up with the content for the exhibition.
Pat Broderick, a volunteer from Absolutely Cultured, said: "The roadshow features a fascinating walk through of the history of the Humber Bridge, interspersed with the thoughts, feelings and stories of people the who have been touched by it.
"We have been inundated with stories, from people involved in the construction of the bridge, to memories of the Queen opening it, to people who have met their partners because of it.
"The exhibition captures just a few of those but does give a flavour of how much the Humber Bridge means to local people, and to many from further afield."
The roadshow will be at the Baysgarth Leisure Centre on November 21 and 22, from 8am; Hull Minster on November 27 and 28 (9am-5.30pm); Hessle Town Hall on November 29 (10am-4pm); Hull Central Library on December 4 (1pm–7pm) and December 5 (9.30am–7.30pm); East Riding College on December 6 (8am-5pm), and; Water's Edge Country Park and Visitors Centre, December 12 – 15 (9am-5pm weekdays, and 10am-4pm weekends).
The Hidden Histories Project is supported by a grant from the Heritage Lottery Fund of £65,700.