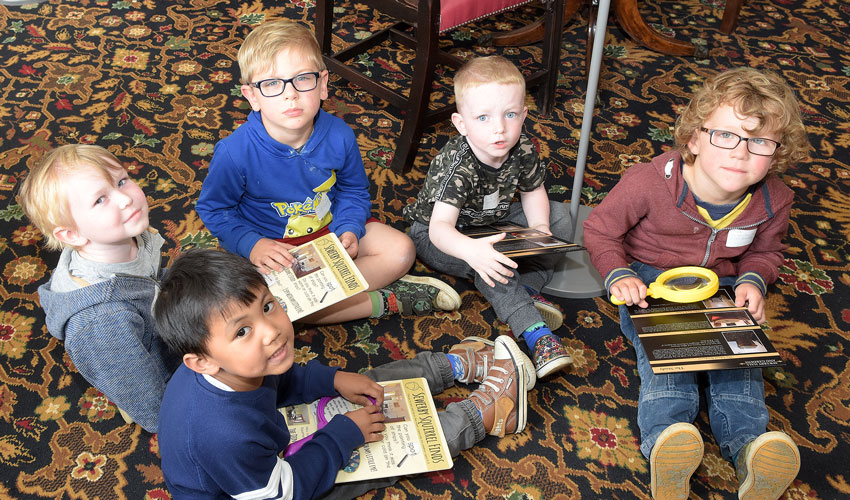 Families and Early Years Foundation Stage groups can now take part in the Creative Families Award at any museum run by East Riding Museums.
Little creatives aged between one and four can take part in the Award during their visit to the museum.
This could be Sewerby Hall and Gardens, Goole Museum, Skidby Mill, Beverley Guildhall, or also the Treasure House in Beverley.
They simply complete four tasks. This can be either during one visit or spread over several days, and then they receive a certificate.
The tasks are in four categories: Discover; Experience; Make and Create, and Share.
The Creative Families Award is a precursor to the Arts Awards. It has been specially developed for children aged one to four.
It is free to take part in at East Riding Museums, and families can simply take part in the Award as they visit. There is no need to register in advance. Groups are advised to let the venue of their choice know they would like to take part when they complete their bookings.
Creative Families Award Make For A Wonderful Time
Christ Church Pre School, based in Bridlington, completed the Creative Families Award at Sewerby Hall and Gardens.
Natasha Thorne, Deputy Manager, said:
"All the children and staff had a wonderful day at Sewerby Hall and Gardens completing the Creative Families Award. It was very child-friendly. The children were engaged all day. The children really enjoyed being able to explore the various flowers and herbs in the gardens.
"They were intrigued by Sewerby Hall and fascinated by the woodland walk. They also loved looking at all of the animals."
Creative Families Award logbooks are also available to purchase from each of the museums.
This means participants can record what they have done, take home, share with others, and also keep as a memento.
One parent who completed the Award in Beverley was certainly impressed, she said;
"Although we normally do the activities covered, it provided a nice 'memory book' of what we've done together."
Councillor Shaun Horton, the portfolio holder for tourism, culture and leisure, said;
"The Award is a great idea. It also adds an extra dimension to visits to our wonderful museums by both young families and Early Years Foundation Stage groups."
To find out more about the venues, and the Creative Families Award, visit www.eastridingmuseums.co.uk or you can also visit www.sewerbyhall.co.uk