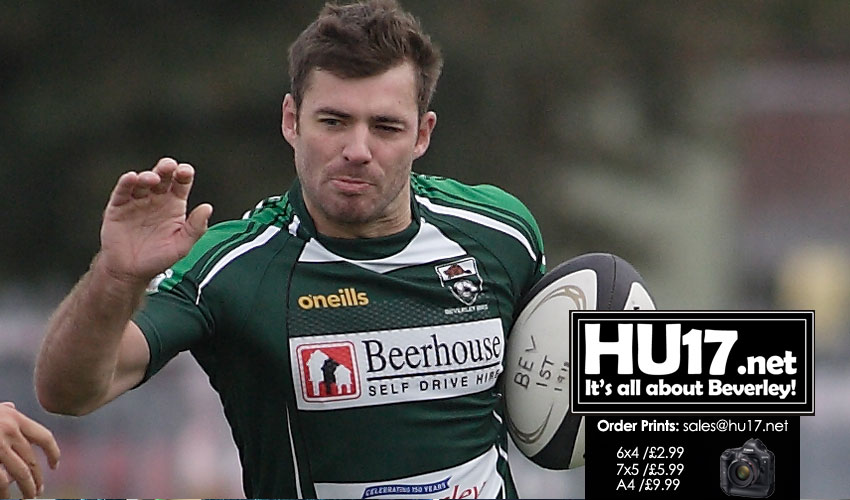 In recent seasons Beverley at Hullensians have performed wretchedly, suffered defeat, and seen their season start to fall away.
This time though they never looked remotely like the side that had racked up over two hundred points in their last four games they at least they came away with the five-point win they wanted.
For half an hour it looked likely that history would repeat itself. Beverley were sloppy in the extreme, squandering simple chances, throwing wild passes, giving away penalties, kicking poorly and generally making poor decisions.
The first twenty minutes were spent almost entirely in the home half without Beverley ever succeeding in producing anything. Indeed as the half wore on they gradually let Hullensians more into the game and they could hardly complain when Gabriel Hawtree put the home side ahead with a penalty after Jack Houseman was yellow-carded for a dangerous tackle.
Eventually, five minutes before halftime Beverley did get going with a try by Isaac Keighley who picked up from the back of a five-metre scrum to force his way over. Phil Duboulay converted and it would have been some relief to Beverley to be turning around 7-5 up.
Spectators will have hoped for something a bit more entertaining in the second half after what had been a pretty scrappy and disjointed first. It was indeed better, but not much. Beverley came out with a bit more purpose and after five minutes they added to their lead when they won a scrum on the left and moved the ball across the field to Luke Hazell who cruised over for the second try.
Perhaps it was this score that slightly knocked the stuffing out of Hullensians. They had been giving as good as they got, running with determination and keeping possession well. Several times only good Beverley tackling had kept them out. Given how they regularly perform in this fixture you wonder how it is that come the end of the season they always seem to be scrapping to avoid relegation.
After Beverley's second try Hullensians rather lost their impetus. Beverley might have added to their score several times but good chances went begging, most notably when Rob Smith would have had a simple touchdown under the posts had the ball been given to him instead of being wildly thrown out in the other direction straight into opposition hands.
With twenty minutes left Will Turnbull did get over after some sustained pressure on the home line and Duboulay added the conversion. Beverley for the last quarter were almost entirely on top apart from some occasional determined Hullensian attacking and some lively running by some of their backs. Smith, who had a good game at scrum-half for Beverley, several times emerged with the ball from Hullensian possession and frequently made good ground. James Graham ran and tackled powerfully on the right-wing and Theo Richardson on the other might have had several tries had the passing to him been better.
In the later stages, Hullensians increasingly looked to be running out of steam although their pack, in particular, continued to attempt to take the game to Beverley. With a quarter of an hour left Smith burst away down the left to set up an attack which was rounded off by Richardson going over in the corner, and almost immediately afterwards Graham came off his wing to take an inside pass and cross under the posts for a final try.
Not a particularly memorable afternoon, in fact really pretty forgettable, but at least a five-point win for Beverley which keeps them in second place in Yorkshire One separated by only one point from the leaders. But third-placed Heath at home next week will require a much better Beverley performance than this.
Final Score: Hullensians 3 Beverley RUFC 29 | Reported By John Nursey