Beverley Braves and Beverley RUFC players from the U13s sections took to their bikes to raise money for the clubs and the Teenage Cancer Trust.
Chris Charles, who coaches the U13s Beverley Braves said they hoped to raise enough money to take the players on tour in the future.
He also said they chose the Teenage Cancer Trust as the charity to raise money for as all the players taking part are teenagers.
Held at the Flemingate Centre, all of the players took part in the challenge. Their goal was to clock up 632 miles in just 6 hours.
Players were split into three shifts with all the players spending two hours on the bikes.
Commenting on the event Chris said;
"We had a good response from the public wishing us luck and making donations. All of the players have taken part. Not only were we taking collections but players also collected individual sponsors."
"Humberside Fire & Rescue Service kindly loaned us the bikes. In all, we had 25 players and parents who took part."
"We wanted to get as many people involved as possible. So we asked the parents if they wanted to put a bit of effort in on a bike they could."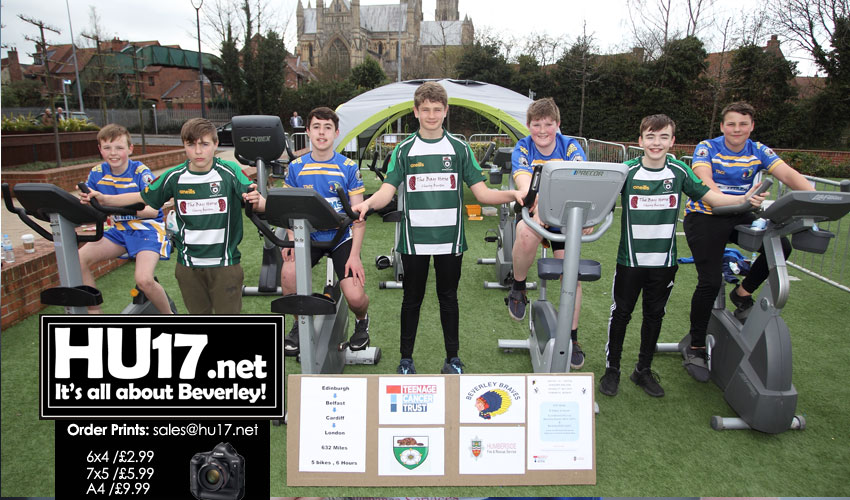 Big Effort By Beverley Braves Players Sees Them Clock Up The Miles On Time
The distance cycled in just six hours was the equivalent of riding from Edinburgh to London, via Belfast and Cardiff.
Chris expressed his thanks to all the people who supported during their challenge, he said;
"On behalf of everyone at both clubs and the players I would like to say a massive thank you to all the people who made a donation."
"Also I would like to thank everyone who helped organise the event to help the clubs and supporting a great cause."
"Overall I am delighted with how it all went. Thanks to their efforts we hit our target of just over 600 miles in around five hours."