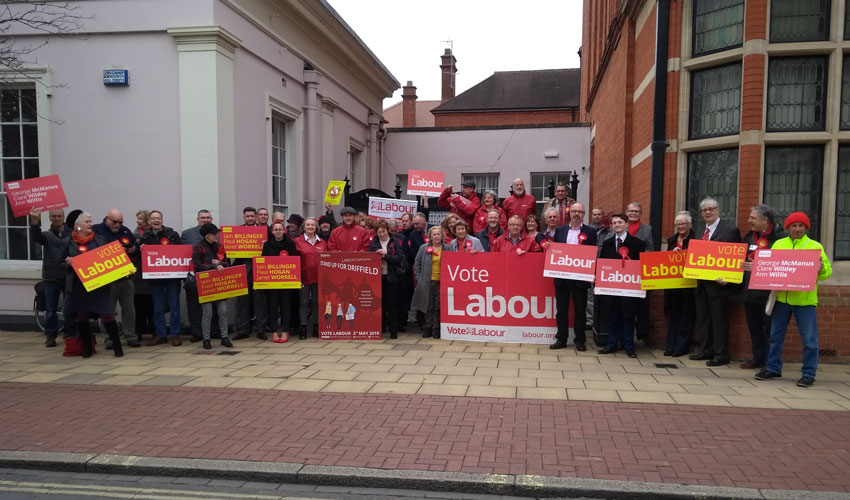 Labour Party members have officially launched their campaign for the 2019 local elections calling for ERYC to put 'I Before E'.
Over sixty candidates were outside County Hall in Beverley as the party fielding the most candidates in the election made their voices heard.
George McManus who is standing in the Minster and Woodmansey Ward in the May elections said;
"As a party, we are delighted to be fielding more candidates than any other party in these elections. In total, we have 61 standing across the East Riding of Yorkshire."
"We have a clear message to ERYC, that is Infrastructure before expansion."
"Our campaign is focusing on a number of key local issues including the 20pc hike in council tax as a result of the Tories in County Hall."
"Not only have they increased taxation on residents they are also cutting services. Young people and the elderly in the community are feeling the brunt of those cuts."
"The Labour Party want to highlight the lack of infrastructure in the region to cope with the 1000s of new homes being built."
"We also want to see an improvement to public transport such as a park and ride here in Beverley."
"Furthermore we want to see increased spending in local schools to ensure there are enough places for children."
Labour Question The Conservative Party Over Selection And Vote Splitting
Labour has also raised concerns about the methods being used by the Conservative Party when it comes to the local elections.
They say Tories are avoiding certain areas where they say independent candidates are clearly Conservatives. Mr McManus added;
"Once a Tory always a Tory – it is that same Once a socialist always a socialist. It is clear they are avoiding splitting votes in some areas by not fielding candidates against so-called independents."
Labour has already been out campaigning and says they are expecting to make gains. They also add that when speaking to residents they sense a change is in the air.
Residents in the East Riding of Yorkshire will go to polls on 2 May. They will get to have their say by electing officials for both county and parish councils.