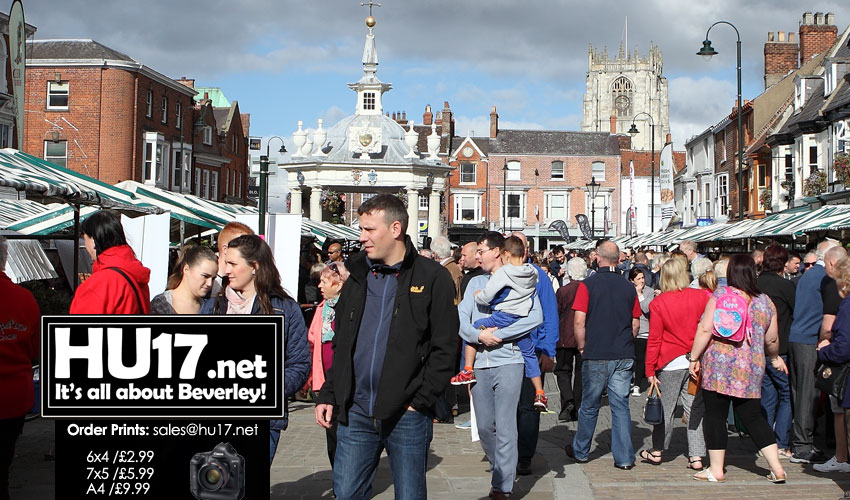 Beverley Town Council Food Festivals have been shortlisted to win a Countryside Alliance Award in the Food and Drink category.
The Awards are the Countryside Alliance's annual celebration of British food & farming, enterprise and heritage through our small hard-working businesses.
The awards are now in their fourteenth year and have become the definitive rural business award to win. They are set apart from other award schemes because they are driven by public nomination, offering customers the chance to tell us why their favourite businesses are worthy of national acclaim. The awards received over seventeen thousand nominations this year so Beverley Town Council Food Festivals has done extremely well to be shortlisted.
Beverley Food Festivals celebrate the changing seasons of Harvest and Yuletide, attracting around 40,000 visitors per year. Established in 2006 by Beverley Town Council, following success with local allotments and events since 1999 when the Town Council was created.
Beverley Food Festivals has demonstrated a long-term, positive commitment to promoting and selling local food to its residents and visitors alike. The first Beverley Food Festival started in 2006 with around 30 local food stalls and a 50 seater Food Theatre. Since then Beverley Town Council has led on the local food scene putting Beverley firmly on the foodie map, growing the festival to 140 stalls, a 200 seater Food Theatre profiling local chef cookery demos and the HEYHA Apprentice Chef final, a Street Food area along with family entertainment and music throughout the day. This great local food ethos, twinned with the tourism of our town, set in the rural hinterland of East Yorkshire led to other local food projects, such as the National Lottery Local Food, 'From Field to Table' project 2009 -2014. This demonstrates a strategic approach to promote the governance and the benefits of eating, buying growing and cooking seasonal local food and putting our wonderful market town of Beverley and the surrounding hinterland of East Yorkshire securely on the foodie tourism map. This project introduced a Christmas Food Festival in 2012 and other events such as workshops on growing and cooking local food along with local produce seasonal events.
The Beverley Food Festivals are self-sustaining events sponsored by local businesses and income from stall holders, operated by Beverley Town Council. The events help to promote the local economy of the town, celebrating local food, its growers and producers. The events are free to attend and focus on food, festivities, education and fun, accessible to all keeping our town alive and kicking! The ethos is 'Buy Local'. The Beverley Food Festival won a Remarkable East Yorkshire Tourism Award in the Large Event category in 2016, and then went on to win the title of Countryside Alliance – Northern Champion, by winning a Rural Oscar in the Tourism Enterprise category and a commendation at the Grand Finals 2016 in Westminster.
Countryside Alliance Awards Director Sarah Lee commented: "We have been overwhelmed by nominations this year. The secret to the Rural Oscars' popularity is that they honour the people involved in these businesses and not just their products or services. They exist to sing the praises of those who work hard to keep our communities and rural economy ticking, but don't seek the spotlight. These awards provide a cause for celebration in a time of great uncertainty in the countryside. Our local produce is second to none and there are many community heroes and businesses worthy of national recognition."
Town Clerk, Helen Watson commented:
''In its 20th year, Beverley Town Council is grateful for all the support that they have received over the years from the community, sponsors, producers, chefs, Beverley Minster and other partners, HEYHA, East Riding College, volunteers and visitors who have all contributed in various ways to the Beverley Food Festivals. To be nominated and go forward to the Yorkshire finals of the Rural Oscars is really a true testament to all the hard work by many, which goes into the development and staging of the Food Festivals within Beverley, along with showcasing the excellent local food and drink producers on our doorstep within our beautiful town set within the rural hinterland of East Yorkshire''.