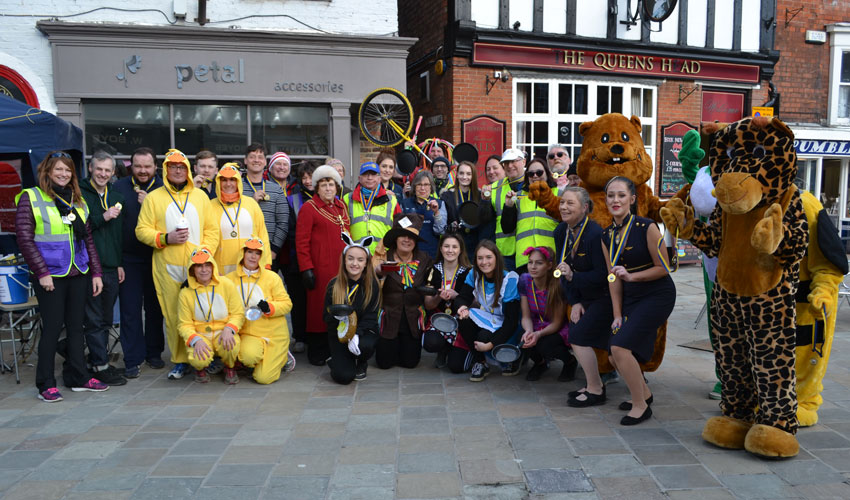 The 'Big Beverley Pancake Race' is back again, after its revival last year. Some residents may remember it from several years ago when it was a regular calendar date, organised by the then, Beverley Arms Hotel.
Beverley Town Council in partnership with the Rotary Club of Beverley is running the event. The aim is to raise money for local charities.
Organisers are now looking for teams to take part in the event and compete in the 'Big Beverley Community Charity Pancake Race'.
The race will be held on Butcher Row & Wednesday Market starting with registration at 11am, following with the first race at 11.30am on Sunday 3rd March 2019.
In a statement the Town Council said;
"We thank all our sponsors. The Main sponsor for this year's event will be Lakeland. They will fund the organisation of the race course, signage and trophy."
"Add Plant of Beverley will be sponsoring the pedestrian barriers required. A mascot race will take place led by Bertie Beaver. There will also be pancakes and family entertainer on hand to entertain from 11am. Teams and spectators are most welcome to come along and enjoy the races."
"Pancake Umpires for this special day, Mayor and Deputy Mayor of Beverley, Councillors Bryan Pearson and Duncan Jack and President of the Rotary Club of Beverley, Liz Whitaker."
Councillor Pearson said;
"It is good to be working in partnership and bringing the race back to the town again. We are looking forward to receiving entry forms from local businesses and organisations."
"This is a real community event for Beverley, bring a team from your business, shop, pub, cafe or organisation, and come along and support your town at this enjoyable pancake race."
"We give our thanks to Lakeland and Add Plant and hope more local people and businesses will want to get involved, by joining in the fun to brighten up March, it's an old tradition which is very interesting."
Liz Whitaker, current President of the Rotary Club of Beverley said;
"I am delighted that we are running this event again in partnership with the Town Council. Teams will be competing for the Rosanne Randle Trophy, named after a Rotarian who introduced the idea of the event back to Beverley after visiting the legendary Olney Pancake Race (in Buckinghamshire) the previous year."
"There will also be prizes for the Best Dressed team and the best Junior Flipper. The event is being held on the Sunday before Shrove Tuesday and we hope local residents will come to Wednesday Market to share in the fun and support the teams in their races."
The call is now going out for restaurants, cafes, shops, businesses and groups to get together a team of four willing pancake tossers, who can enter the relay race of approximately 80 metre, frying pans and pancakes, will be supplied, however, non-slip training shoes are required.
The course is designed to encourage a sensible mix of skill and speed. There will be a trophy and prizes awarded to the winners on the day, including one for the 'Best Team Fancy Dress' and one for the overall 'Winning Team'.
Mr Paul Vinsen, Chairman of Hull & East Yorkshire Hospitality Association (HEYHA) said;
"It's wonderful to see this tradition revived. We created this fun race to celebrate Shrove Tuesday in the 1980s, at the time I was the Manager of Beverley Arms Hotel and also a Rotary member. I am really delighted to see its return."
Further information and Entry Forms for the Team event can be obtained by emailing clerk@beverley.gov.uk.
The Final date for Entries is Tuesday 22nd February and they will be accepted on a strictly first come, first served basis. Please contact Helen Watson, Town Clerk for more details at the above email or call 01482 874096.