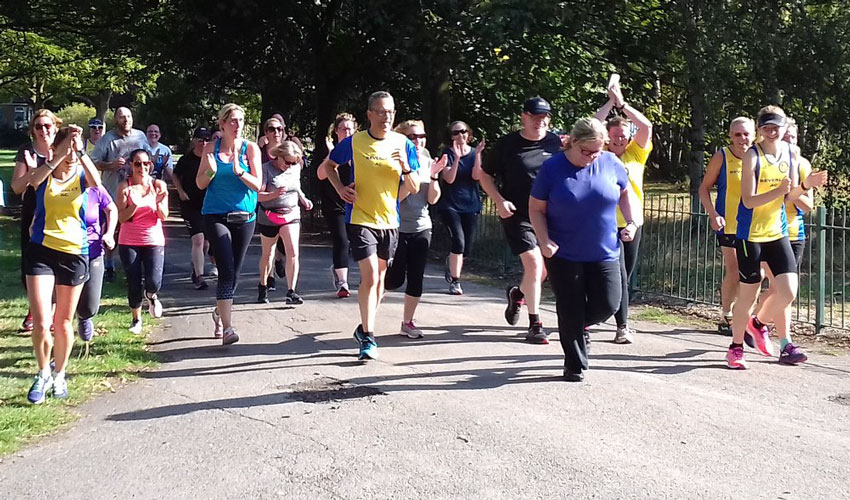 Beverley AC celebrated the achievements of its Couch to 5k participants at Peter Pan Parkrun on Saturday 1 September, with runners taking part in the 5 kilometre run to successfully complete the 15-week course, which began in May.
Twenty-seven Couch to 5k runners completed the course at Peter Pan Park in West Hull, cheered on by marshals and encouraged by over 250 fellow runners, many of whom regularly attend to run the free 5k event every Saturday morning.
One successful runner spoke of her new found enthusiasm for running as a result of the course:
"Couch To 5k has been thoroughly enjoyable – there has been no pressure, only encouragement, patience and support which has been invaluable in giving me the confidence to attempt to run for 5 kilometres non-stop and no doubt the others in the group will concur. I will definitely continue running – I needed to get fitter and I have achieved that – now to get even fitter!"
The course was designed and delivered by Patrick Marshall of Beverley AC, a UK Athletics qualified coach, who was delighted with the results achieved by the group:
"The Couch to 5k course has been more successful than I could ever have imagined when we started in May. There have been laughter, tears and a great deal of sweat over the past fifteen weeks and this group of people have created a community well beyond running, with almost thirty of them making themselves and their families proud last Saturday by completing the Park Run. It has been an honour to be their coach."
Having started with 41 runners, there were 27 runners completing the parkrun, with several more set to complete the feat within the next few weeks to complete the achievement, having returned from injury and other commitments.
The club is planning its second Couch to 5k course, beginning in January 2019 and further details will be available shortly. For anybody interested in running with Beverley AC, this friendly and established local club welcomes you to come along to sample club night on a Wednesday evening, meeting at 6.30pm at Beverley Leisure Centre on Flemingate.
In addition, Beverley AC will also be 'hosting' a section of the Hull Marathon on Sunday 23 September, on Boothferry Road, where club members will marshal and support runners along a challenging stretch of the 26.2 mile course.