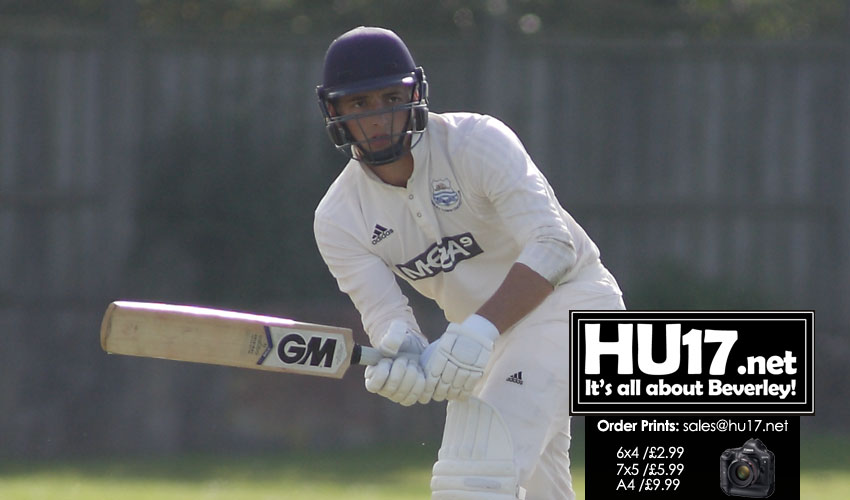 A dramatic weekend of cricket for Beverley Town Cricket Club brought three wins from three games on Saturday and a narrow loss for the 5th XI on Sunday.
The 1st XI secured promotion to the Yorkshire League North; the 2nd XI made significant strides in their own promotion ambitions and the 3rds continued to play a key role in the Holderness Division 2 title race with a narrow win over top of the table Patrington.
York Senior League
Premier Division
Beverley 1st XI 268 for 4 beat Whitkirk 267 for 8 by 6 wickets
Despite producing one of their more ordinary bowling and fielding performances Town won promotion to the Yorkshire League North by virtue of a six-wicket win over Whitkirk. The win cemented Town's third place in the Premier League and as second place York II cannot be promoted (their 1st XI are in Yorkshire League North) Town will go up in their place. Jamie Roe (4-62) and Matt Mudd (2-56) bowled thirty overs between them, Kieran Thompson (1-63) the other successful bowler. Keeper Mike Cooke registered his 33rd dismissal of the season in Whitkirk's 267 for 8.
Beverley's batting could not be faulted as Ben Hatfield and Harry Gamble put on 149 for the first wicket, the latter out to a good catch for 46. Pete Shally (25) and Olly Grantham (19) helped push the score along and, with Hatfield in imperious form, Town reached their target in the final over of the day, Hatfield, with a magnificent 161 not out, leading the players of the pitch to richly earned applause from the spectators and players alike. The club, with one game still to play, can already look forward to next season where they will compete with some strong sides in the areas top league.
Division 1
Beverley 2nd XI 148 for 6 beat Carlton Towers 1st XI 144 all out by 4 wickets
The 2nds travelled to Carlton towers and, in front of a large crowd, came away with a win to replace the home side at the top of Division One. Needing to secure an outright win to make sure of maximum points captain Alan Acklam elected to field first on winning the toss. His decision soon looked to be justified as the home side struggled to 31 for 4 against Connor Bowden and Ed Chappell. A hard-working partnership took Carlton to 92 before Joey Franklin (3-33) was in the action taking the first of his three wickets, one to a second deft stumping from the divisions leading wicket-keeper Rob Fish. Bowden claimed two more wickets to return an impressive 5 for 33 from his twelve overs and Chappell (2-21) came back on to end the innings at 144 all out.
Town's innings began in similar fashion to the home teams as they slumped to 25 for 4 and it took some hard work from Will Parker and Bowden to rescue the situation. Bowden made 28 of their 51 partnership before departing. Acklam then joined the immovable Parker to put on a further sixty runs in good time before Acklam was out at 136 for 6 with the winning line in sight. James Emery hit two boundaries to complete the win with Parker remaining unbeaten on 61, yet another massive contribution from the leading batsman in the division. Town play bottom club Ripon at Norwood on Saturday when they will require a win to secure the league title and at least 16 points to be promoted.
Holderness Division 2
Beverley 3rd XI 146 for 9 beat Patrington 1st XI 141 all out by 5 runs
The 3rds showed real character after their Bank Holiday Monday disappointment against Welton by beating current league leaders Patrington at Norwood. Electing to bat first Town lost two early wickets to poor shots but Kieran Simpson (32) and Alex Nightingale (22) both got in and looked to be heading for big scores when they too were responsible for their own downfalls. Richie Singh made yet another handy contribution, hitting two sixes, before being caught in the deep for 29. It was left to Kieran O'Brian (30 from 65 balls with 4 x 4s), to patiently lift his side to 146 for 9 from their 45 overs.
Town's strength in recent weeks has been their bowling and this week was no exception. Despite an injury to Owen Parnaby, which meant he was only able to send down two overs, Town were able to apply pressure from the off as Singh reduced the visitors to 13 for 2. Singh (4-21) struck again, twice, with the total on 42, keeper Will Harrison taking the second of his two catches. Patrington put together three useful if not large partnerships but each one was ended by Craig Foster or Matty Saint (2-34) and at 116 for 7 the game was still delicately poised. This changed with the introduction of Nightingale (2 for 8) who turned the tide in Town's favour and in due course Foster (2-35) was the recipient of the fifth lbw decision of the innings to bowl the away side out for 141 in a thrilling finish which leaves the 3rds in third place.
Conference Sunday
Beverley 5th XI 152 all out lost to Carlton Towers 3rd XI 156 for 9 by 4 runs
The 5ths narrowly missed out on moving back to the top of the Sunday Conference when they fell agonisingly short at Carlton Towers. The home side chose to bat first and Town put in a good bowling performance. The average age of the Beverley attack was a shade over 15 years and Harry Smith (1-25) and Matthew Bloomfield (1-33) opened up before Lew Richardson (1-40) and Jacob Hunter (1-20) took wickets too. Star man, however, was Jack Barnett, his ten excellent overs of wrist spin bringing him 4 for 32. Carlton closed on 156 for 9 and, as good as the bowling was it was not always matched by the fielding and some relatively straightforward chances went begging.
RJ Thompson (22) made his long awaited return after injury and hit five boundaries before being caught on the rope. Matthew Hudson looked like he may see his side home and support came from son Haydn (13) and Tom Barnard (13) who both played responsible innings. Rich Simpson and Hudson senior added 35 runs before the latter was out for 47 with 21 still required. Hopes rested on captain Simpson but two more wickets fell and he was out going for the win in the last over of the game, the resolute defence of Bloomfield, at the other end, in vain. Despite the loss Simpson and the Town supporters were justifiably proud of the team's efforts.