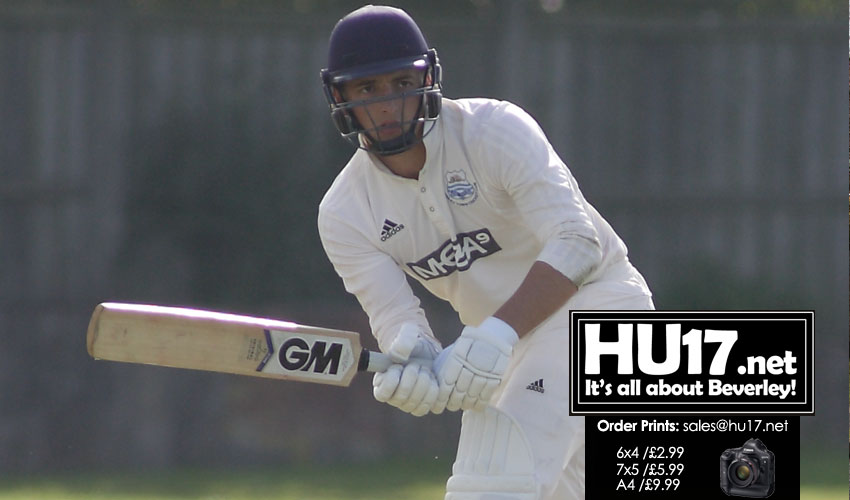 There was a stark contrast between last Saturday and Sunday for Beverley Town Cricket Club.
Saturday saw a win for the 3rd XI and three winning draws while Sunday brought Hunters Cup final defeat for the 1st XI and a second loss of the season for the 5th XI.
York Senior League
Premier Division
Beverley 1st XI 264 for 5 drew with Driffield 2nd XI 200 for 7
Ben Hatfield was the leading batsman as the 1sts secured another winning draw, this time away at Driffield. His 121came from 131 balls and included eight fours and five sixes. Supporting roles came from fellow opener Harry Gamble (23) and Pete Shally (46) as Town made a cautious start. The run rate increased as Olly Grantham (23) scored at a run a ball and Hatfield went through the gears before being fourth out at 233. Andy Burton made 13 and Greg Whyley hit an unbeaten 26 in quick time to leave Town on 264 for 5.
Driffield had 81 on the board before losing their first wicket but Jamie Roe (3-35) removed the first three batsmen, 83 for 3. Another fifty runs were added before Kieran Thompson (1-34) had his only success of the day and the home total was approaching 200 when Brad Graham (1-48) struck. Joey Franklin returned a creditable 2 for 35 as Driffield settled for 200 for 7 from their fifty overs giving them 12 points and Town 26.
Hunters Cup Final
Beverley 1st XI 124 all out lost to Dunnington 1st XI 128 for 4 by 6 wickets
A disappointing batting display effectively sealed the 1st XIs fate in the Hunters Cup final at Dunnington last Sunday. Town could only total 124 all out as Dunnington took full advantage of the final being played at their home ground. Harry Gamble (25) and Jamie Roe (21 no) top scored and Joey Franklin took 2 for 7 as Town claimed four wickets before their total was passed. Final appearances both last year and this year have been disappointing but Town will hope to make it third time lucky in 2019.
Division 1
Beverley 2nd XI 235 for 6 drew with Pocklington 1st XI 201 for 7
Will Parker once again lead the way as Town 2nds totalled an impressive 235 for 6 at home to Pocklington. His partnership of 109 with Brad Dobson was only ended when the latter was out for a patient 45. Parker was next out for 82, a score which takes him past the 1000 run mark in league and cup for Beverley Town this season, some achievement. Tom Norton made 26 not out at better than a run a ball and some good running from the late order took town to their total.
Beverley did not have it all their own way and at 108 for 1, the only wicket to Owen Parnaby (1-26), Pocklington were still in the game. The introduction of Pete Parnaby saw the second man out, to a catch by Tony Spence and wickets began to fall. Spence (2-37) replaced the injured Ranbir Singh and took the next two wickets before Parnaby (3-40) had more success and Ben Fish (1-27) also struck as Pocklington progressed to 165 for 7. They continued without further alarm to end on 201 for 7 and 13 points with Beverley picking up 26 to remain in second place in Division One.
Holderness Division 2
Beverley 3rd XI 227 for 6 beat South Holderness 1st XI 100 all out by 127 runs
A third successive win for Town's 3rd XI came on the back of an excellent 93 by Iain Gillyon, in a rare outing, 67 from Will Fish and a six wicket haul for Matty Saint. Town were invited to bat first and made a slow start but the arrival of Gillyon changed things as he stroked the ball around the park making 93 in just 92 balls. Fish, becalmed in the early overs, hit out well later in his innings to make 67 to complement Gillyon's contribution. Kieran Simpson, recovering his form, looked good in making an unbeaten 35 in support as Town reached 227 for 6.
Craig Foster ensured the visitors were soon behind the run rate with a very tight spell of eight overs for just 14 runs. Kieran O'Brian was also economical and claimed an early wicket. Matty Saint had early success and Charles Fish (1-13) bowled a great spell. From 85 for 3 South Holderness subsided to 100 all out against Saint (6-44) and O'Brian (3-25) with Town holding seven catches in all, three to Rich Riley. A third successive win takes the 3rds outright wins to ten for the season and they can look forward to their last four games, two of which are against title chasing 1st XIs, Patrington and Welton & Brough.
Holderness Division 4
Beverley 4th XI 131 all out drew with Pelican 109 for 9
Holderness Division 4 champions Beverley 4th XIs superb season continued with a winning draw at one of the most difficult grounds to play at, Pelican. Unsurprisingly asked to bat first Town were largely indebted to their middle and lower middle order for runs. Captain Kevin Thompson was full of praise for Tom Smith, who produced his best batting performance in senior cricket with 22, and Will Cammish, who made 29, as they batted for 17 overs, adding an invaluable 48 runs. Jonathan Sowter scored 18 and Lew Richardson, with a big move up the order to number eight, made 16 including a six as Town reached 131 all out, a very good effort.
Few teams will have had as youthful an opening pair of bowlers as Town's and Jacob Hunter (1-13) and Harry Smith (1-15) were rewarded for their efforts. Another Under 13 player, Harry Metcalfe, made his senior debut for Beverley and took 1 for 26 in four overs. Jonathan Sowter, with a controlled 1 for 11, was also in the wickets but it was Charlie Bough who had most success as he produced the remarkable figures of 4 for 7 from ten overs. Cammish took two catches in support as Pelican were restricted to 109 for 9 giving Town 24 points and continuation of their unbeaten season with just one game remaining.
Conference Sunday
Beverley 5th XI 47 all out lost to Drax 3rd XI 162 all out by 115 runs
Town sent an inexperienced side to Drax and were well beaten despite an excellent bowling performance from a very youthful attack. Jacob Hunter (2-5) lead the way and Jared Goforth took 2 for 47, with the only experienced bowler, Iain Sugdon, taking 2 for 16 from ten tight overs. Adam Pashby took 3 for 15 and a run out left the home side 162 all out, with Town rueing a couple of difficult chances that went begging.
Town never recovered from a poor start and no batsman reached double figures, Tom Patey (9) top scoring, and they were all out for just 47 in 21 overs. This was the first time this season the team had failed to produce and it was only their second defeat in what has been a good start to life for the new team established only this year.