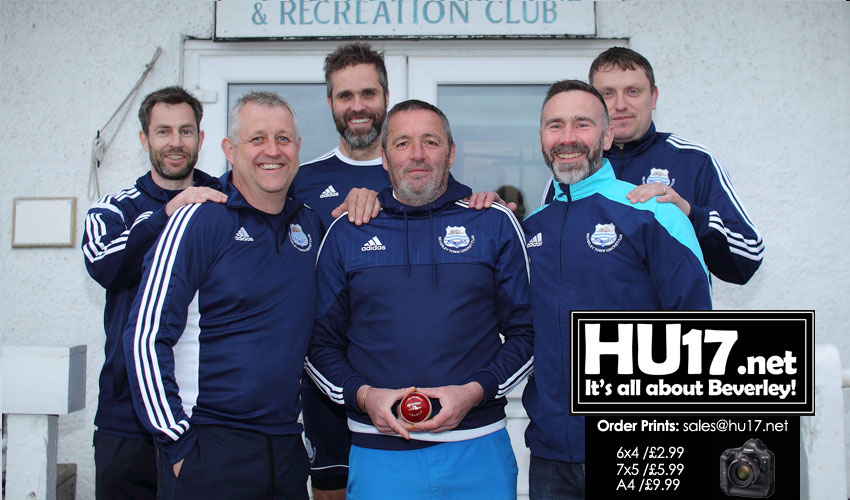 Captain's of Beverley Town Cricket Club have expressed their thanks to the businesses and individuals who have sponsored the club for the forthcoming season.
Beverley Town CC, who play at the Norwood Recreation Ground provide cricket in the local area for all ages including free softball sessions every Monday.
The upcoming season is a big one for Beverley Town CC with the club introducing a fifth XI following an increase in the number of players who have joined.
Tim Fordon, skipper of the third team at Beverley said;
"On behalf of the club I would like to thank each and business and individual that has come forward to support the club this season."
"With their support it means we are able to purchase equipment needed so we can deliver cricket and cricket based activities in Beverley."
Anyone wishing to explore sponsorship opportunities with the club, including pitch side boards, should contact Mike Fish at Beverley Town CC to discuss the packages on
offer.
New sponsors to sign up for 2018 include Peter Ward Homes, East Riding Renovations, The Royal Standard and Beverley Plumbing.
Beverley Town CC will be looking to get their new season underway this weekend after the season was put back a week due to adverse weather.
The first and third team have an away days as they face York II and Cottingham respectively in their opening fixtures, while the seconds and fourths are at Norwood, with the seconds facing Sherriff Hutton Bridge at and the fourths playing South Holderness II.
Beverley Town Cricket Club Official Sponsors 2018 / 2019
Main Club Sponsor – Meza9 – Neil McKenzie
Boundary Board advertising during the season:
Acklams Coaches
Multex Chemicals
Wilkin Chapman LLP
Data Facilities
Jordans Motor Depot
Match Ball sponsors:
Dave Bell
Gina Fordon
Mike Hutchinson
Mike Hyland
Cliff Stubbs
Nigel Bloomfield
Great Newsome Brewery
One World Travel
Harpers Fish and Chips
Jim Bell
Gerald Hurst
Dave & Wendy Turpin
Mark & Jane McMullen
Dog & Duck Public House
Chamas Brazilian Rotisserie
Beverley WI
Whittaker Shoe Repair
Dave Money
Dr Peter Lee
Marjorie Goforth
Donations and support received from:
National Westminster Bank
NatWest Cricket Force
Jewson DIY.
Privilege Account
Felspar Consulting
New sponsors/donations received for 2018 from:
Paul Tindall (The Original Woodwork Co. Ltd)Chris Dale (Dale Landscapes)
Roger Spink (Spinks the Chemist)
Peter Ward (Peter Ward Homes)
Tim Fordon joinery
Nick Bean (The Royal Standard)
Ian Holgate Plumbing and Heating
Steve Smith (The Royal Standard)
Nick Law (East Riding Renovations)
Steve Atkinson
John Blenkinsop (Beverley Plumbing)
Duncan Jack
David Dever (Lighting and Living of Beverley)
Brian Cahill
Andrew Cooke (JD Cooke & Son)
Simon Wride Homes
David Bignell (Humbrian Properties)
Eric Smith
Milan Tojagic (Skippers Tavern (Hull) Ltd)
The Godber Foundation
Dave Garness (Garness & Jones)
Jim Maskie
James Wilkins (The Blending Room)