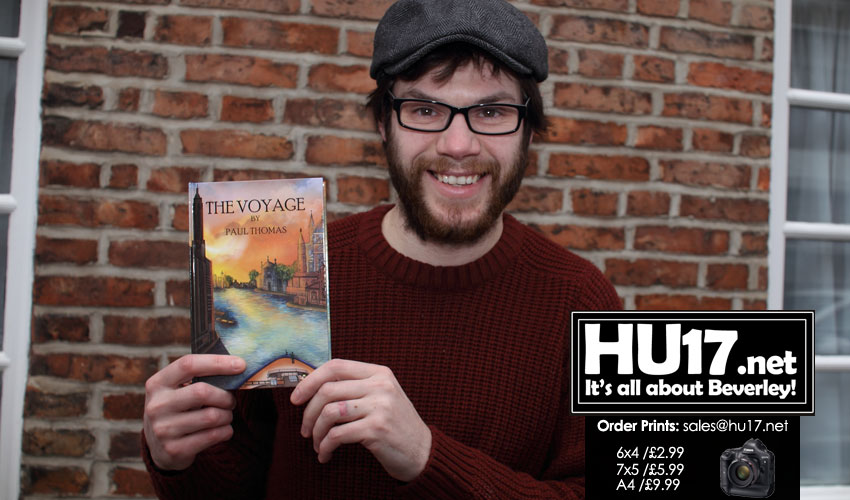 Beverley is proud of its diverse artistic and creative culture. It boasts the East Riding Theatre; West End professionalism in a local setting.
It is home to actors of international renown, musicians, artists, authors, journalists and broadcasters. Celebratory festivals abound throughout the year: folk, food, early music and literature.
In this context I was delighted to meet a rising new Beverley star; first-time author Paul Thomas, 30. An ex-Beverley Grammar School boy, Paul has just published his debut novel, 'The Voyage.' He describes it as a 'comedy, romance and drama about a couple in a stale marriage of convenience who travel to Venice and find love again.' It is set in 1913, the year after the sinking of the Titanic. 'I love Venice, love the era.'
It is an enormous achievement to have his first novel accepted, but it was an uphill struggle. 'I sent the manuscript off to dozens of publishers and literary agents, and Austin Macauley, who have offices in London, Cambridge and New York, came up trumps. I'd dabbled in writing before, the odd screenplay, but nothing substantial.' Ironically, at school Paul's first loves were drama and reading. 'I wasn't that proficient academically. Not what you'd call a great scholar.'
Paul's second novel, 'The Chocolatier' has already been accepted for publication, with a third in the pipeline. 'The Chocolatier,' set in Beverley in the present day, is another love story, inspired and endorsed by Beverley's White Rabbit Chocolate Shop. What authors inspire him? 'I'm a huge fan of P.G Wodehouse and Lawrence Durrell. I love all the Jeeves novels, the strong female characters and the parodies of the upper class.'
Paul's approach to writing is instinctive and unstructured. 'Planning bores me to death. Writing is a voyage of discovery for me. I start off with a germ of an idea and a blank page and just go with the flow.' He offers some pearls of wisdom to aspiring authors. 'I learned by osmosis. Just read as many books as you can.
There's no exact science to writing a novel. You do need to be resilient and to accept rebuffs and polite rejections.' When he's not working at his day job as a bar man at Beverley's Monks Walk pub Paul can be found at venues across the town tapping away on his laptop.
The East Riding Theatre Café, where he volunteers on the box office, is a favourite location alongside the venue that inspired his second novel, the White Rabbit. When he's at home he often retreats under a duvet, writing from the comfort of his bed.
Paul's family are delighted with his success. 'The Voyage' is dedicated to his mother Pat and brother Steve who 'have always supported me.' Look out for this young author about town and go online to buy his book.
The Voyage by Paul Thomas, Austin Macauley Publishers ISBN 978-194735-381-7. Amazon is the best place to order a copy, and there is a Kindle version.
Arts & Culture Editor