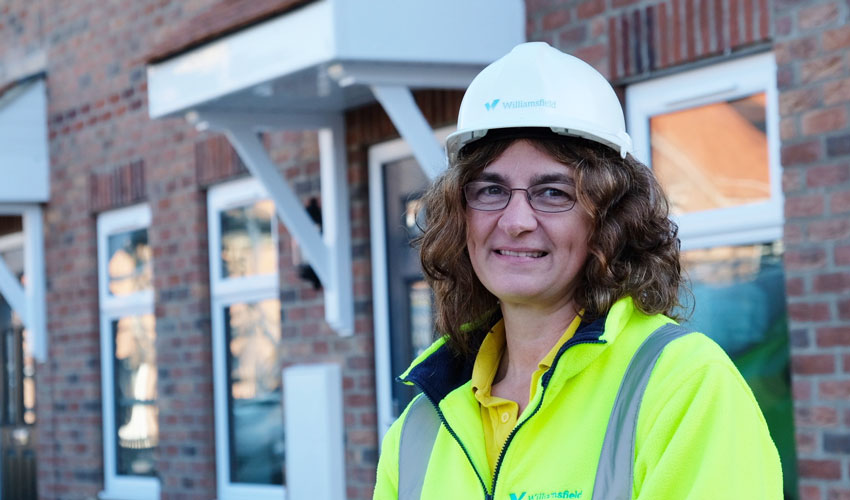 It's easy to see why new-build homes at the Williamsfield Developments housing scheme in Hutton Cranswick are being quickly snapped up by buyers eager to live in a super-efficient home within an attractive community.
This is the East Yorkshire-based organisation's first development, and company directors Paul and Joanne Lisseter have worked hard to ensure every aspect of the scheme – including the electrics and solar installations courtesy of James Foley Electrical Ltd – hit the highest quality mark.
"It's our intention to provide a high quality build, with a high standard finish and high technical efficiency across our full range of homes," said Paul.
Every home on the Williamsfield development benefits from triple glazing, noise suppression between floors, and solar roof panels, making them 60 per cent more energy efficient than most other new builds. It is the inclusion of solar power at every property that ultimately helped Paul make his decision on who to appoint as his electrical contractor.
"I wanted to use a local firm but it was important they would be able to cover the full range of electrical requirements, including solar power certification," he said. "James Foley Electrical have every competency we could need. With solar certification, not only do they need to have up to date training, they also need to ensure their test equipment is regularly assessed and checked. This is quite an onerous undertaking for any electrical contractor but it gives me an assurance that their work is always absolutely reliable."
Electrician and business owner James Foley, from Hutton Cranswick, said: "Every member of the Foley team takes great pride in their work and it's always a pleasure to play a part in like-minded businesses' projects where the focus is on great workmanship.
"As well as taking care of all the wiring and electrics, this development has given us a fantastic opportunity to put our solar installation and testing competencies to use – every single home has in-roof mounted solar panels, and it is essential they are up to all up to standard."
Sustainability is a major factor in the Williamsfield Developments business ethos and Paul believes a 100 per cent A rating for energy efficiency puts them in the top one per cent of housing developers in the region, with Williamsfield being the only local developer to offer certified A-rated 'affordable housing'.
Paul said: "It is very unusual for a developer to offer A-rated affordable housing, but we have already handed over our first three affordable homes to the social landlord, East Riding of Yorkshire Council. They are kitted out with the same high quality spec, triple glazing and solar power as all the other properties on the development.
"Whether buyers are looking for their first home, a place to retire, a smaller property or a large six-bed detached house, every single one is A-rated for energy efficiency," he added.
"This is what makes our homes exceptional and unique in this area. The range of different properties also means there is a genuine sense of community on the site with a good mix of families, professionals, and older people."
The land on which the Williamsfield new homes stand has been historically and continually owned by a man named William, hence the name. For over 100 years now, it has been owned by the Lisseter family.
Over the years, the Lisseters have carried out many farming activities but it was clear to them that the farming way of life was changing and the village needed to grow to stay young. So, the family sought planning permission to build domestic dwellings on 'Williamsfield'.
Joanne said:
"It took nearly 18 years to obtain planning permission. I'm not sure people really believed we intended to use the land to create new homes but that is what we wanted. There has been very little housing development in Hutton Cranswick, the village was at risk of deteriorating as the younger generations left the area with few options for settling into their own homes in the village.
"It was very important to us that we would be providing homes for people in our community, as well as those who had left but wished to return, perhaps to be closer to elderly relatives."
It was only after the first two houses were built that Paul registered as the site's builder as well as its developer and Joanne's role evolved into taking on the responsibilities traditionally covered by a site manager, including organising logistics and ensuring everything happening on site runs to schedule.
"I don't think either of us really set out to become builders, but it happened and we really enjoy it. We originally employed a site manager who moved on, and I suddenly thought 'I could do that job!'" said Joanne, who had until that point been working in the couple's IT business.
"I completed an NHBC level 6 NVQ site manager qualification and have now taken it on as a full-time role. It's still quite unusual these days to have a female site manager in the building trade but I love it."
Williamsfield Developments set out to employ local tradespeople wherever possible, including James Foley Electrical Ltd. "I've known the Foley family for many years and it's great to work with James and his team," Joanne added. "They're extremely capable and their competency for solar power certification has been of great importance to us."
Such is the popularity of the development, Williamsfield Developments intend to extend it with an additional 67 properties. Now they have this successful experience under their belts, they are also looking ahead to the future and hope to identify more suitable sites to create new homes for local people.