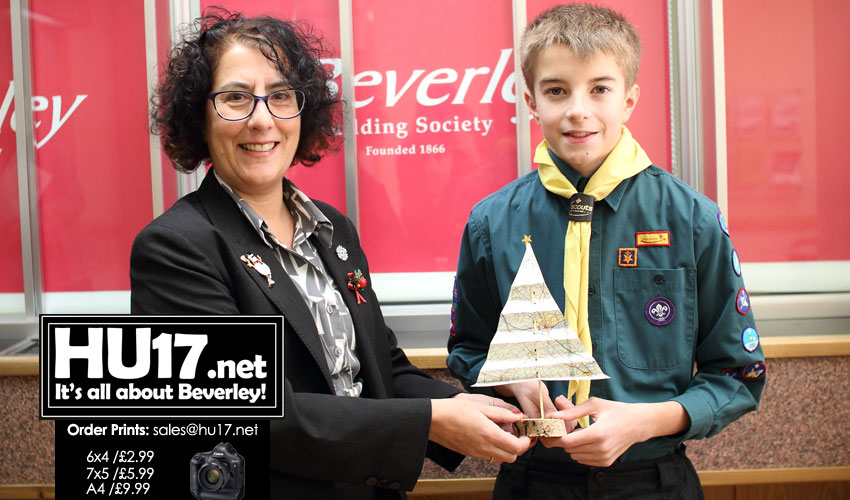 Local Scout Max Harris-Smith has been busy raising money after he found out his application was successful to attend the World Scout Jamboree.
Following a rigorous selection process that saw 900 Scouts from the region apply, Max, along with Anna Powers, also from Beverley, were picked to represent the 1pc of Scouts who will attend from the UK.
Max has been a Scout for 3 years and is a member of 1st Walkington Scouts where he is the troop leader of Bull. Now he hopes the community can get behind him and support his efforts.
The 13-year-old needs to raise £3,885 to fund his once in a life time opportunity to attend the World Scout Jamboree that takes place in West Virginia in 2019.
Max, who is banking his money at the Beverley Building Society has been supported by local businesses including the Society who donated £50 towards his cause.
Speaking about his fund raising efforts to get to the World Scout Jamboree Max said;
"To raise money I have been doing odd jobs like sweeping leaves, doing football scratch cards and selling homemade crafts at school fayres."
"The White Rabbit Chocolate Company also match funded me and made a hamper which I was able to sell off to help raise money."
Max, with the help of his mum came up with unique idea using an ordnance survey map for craft after research he conducted on Pintrest.
He made around 100 trees which he has sold and also given to people as thank you for backing his fund raising efforts.
When asked what he thinks about being part of the Scouting movement, he said;
"Being in the Scouts is a really good. I enjoy doing all the different activities and going camping. Some of the things I have done as a scout include climbing Snowden."
Thanking the Beverley Building Society for their support Max said;
"I would like to thank them for their support. I got to know the people here as I am storing the money at Beverley Building Society so we got talking. I am very grateful for their donation."
Max has more fund raising incentives planned for the coming year.
He is currently appealing to local businesses who can either donate a prize or who would be prepared to offer a venue for him to host fund raising nights.
To find out more about how you can support Max you can follow his progress on his Facebook page 'Max's Jamboree Journey'.