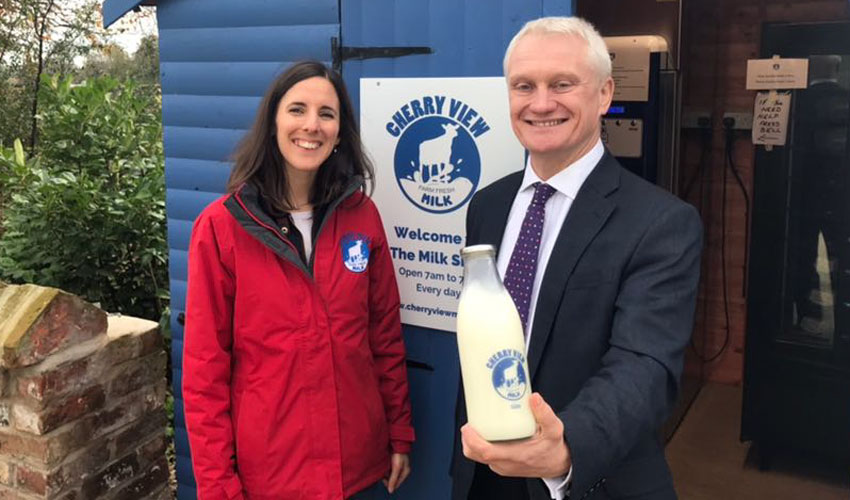 Beverley and Holderness MP, Graham Stuart, showed his support for local producers as he visited Cherry View Milk in Cherry Burton.
The business, which is run by dairy farmers Becky and Jim Waring, has proven hugely popular with residents despite opening only two months ago.
Graham visited the 'Milk Shed', where customers can use a vending machine that guarantees them fresh, pasteurised milk that is no more than 24 hours old.
The local MP also took time to meet the pedigree herd of 150 Jersey and Holstein cows, which produce the milk that is already proving a hit with residents.
Graham said:
"It was fantastic to go along to Cherry View Milk and see a real local business success story. Becky and Jim have worked incredibly hard and they are now fulfilling their dream of selling fresh milk from their lovely cows directly to the public.
"Even during my visit, there was a constant stream of customers coming through the door to use the vending machine, where two delicious litres of fresh, pasteurised milk can be bought for just £2.
"I encourage all residents to continue nominating Cherry View Milk for the Countryside Alliance's Rural Oscars, which could see them through to the Grand Final in Parliament next April. It would be fantastic to have a Beverley and Holderness business there at this prestigious event."
Cherry View Milk has even been nominated for a Countryside Alliance 'Rural Oscar', and Graham encouraged residents to vote for them before the deadline on 13th November.