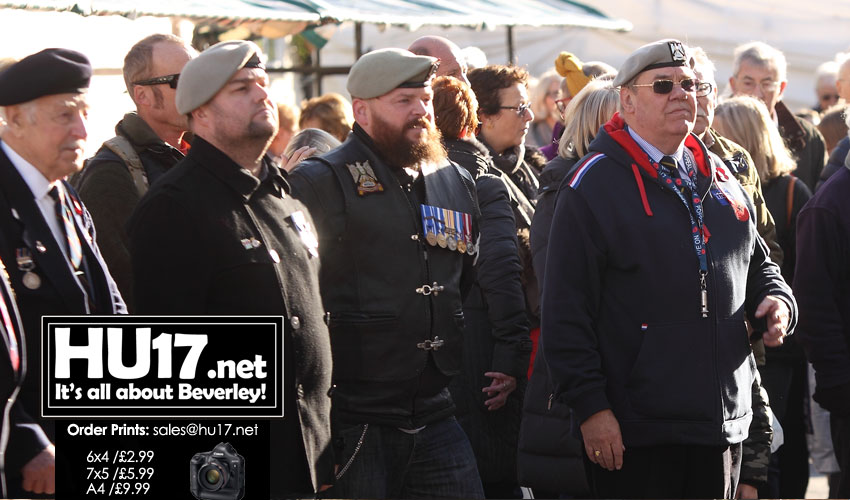 Members of the public joined businesses and veterans as they stopped to pause at 11AM to pay tribute to those who have lost their lives while serving their country.
This year was a real test as the date fell on a Saturday, one of the busiest times in the town centre of Beverley.
Keeping with tradition Town officials were at the event with the deputy Mayor, Cllr Phil Dodsworth representing Beverley on the Market Cross.
Rod Evans, The Poppy appeal Organiser for Beverley said;
"I would like to thank everybody today for taking time out of their day to pause at 11AM. The silence was observed impeccably by everyone in Beverley today."
"May I also thank all the local businesses and also the Market Traders who were particularly accommodating on such an important day."
"Fund raising in the town for the Poppy Appeal has been going very well and we are hopeful we will set another record thanks to kind donations being made by residents in the town."
At 11AM it was possible to hear a pin drop in Beverley though the streets we packed with people out Charismas Shopping and enjoying the mild November weather.
At 5PM the Poppy Appeal will collect up all the collection tins with the total raised hopefully being announced in the next two weeks.
Sunday will see the Town again pay tributes at Hengate Gardens following a service at Beverley Minster.
Anyone wishing to watch the parade of be part of the service that will be held in Hengate Gardens can find out more here.
Money raised from the sale of Poppies is used to support veterans and their families. The Royal British Legion are encouraging people 're think remembrance' and think about those who have suffered in more recent conflicts.