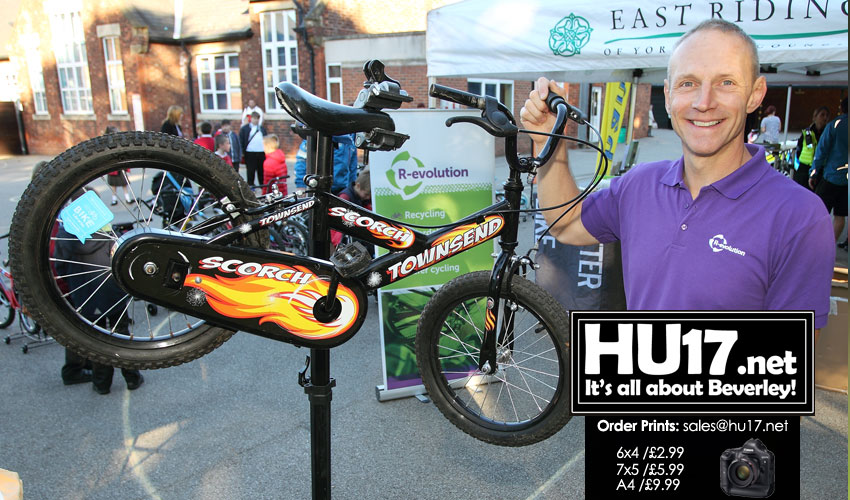 R-evolution will be providing 3,000 refurbished bikes over the next three years as part of a programme to promote the benefits of cycling.
The charity was set up two years ago and thanks to the support of several local and regional organisations has proved a huge success.
Now it has opened a new centre in Station Road, Cottingham to meet the demand for its services.
R-evolution refurbishes bikes to be loaned out through the school- based Yorkshire Bank bike libraries scheme and in a separate scheme sells them at affordable prices.
It also works with local prisons delivering cycle mechanics training and life coaching to help prisoners and ex-offenders learn new skills to help them make a fresh start in their communities.
In addition, R-evolution offers training and work experience to long term unemployed people helping them gain the skills and confidence to get them back into work.
Short courses in cycle maintenance will also be provided to members of the general public.
R-evolution was set up by John Marshall in 2015 in partnership with East Riding of Yorkshire Council to promote the benefits of both cycling and walking.
In a short space of time it has grown to employ seven people and has more than 40 volunteers and has won support from a range of prestigious funders and partners including Lloyds Bank Foundation, Welcome to Yorkshire, Tribune Trust, Yorkshire Bank, Humberside Police, HM Prison Service and the Dame Kelly Holmes Trust.
"We have had wonderful support and I am particularly grateful to East Riding of Yorkshire Council who had the foresight to realise the potential benefits that we could deliver to the whole community," said Mr Marshall, whose community work in Hull was recognised by the award of an MBE in 2006.
"From those humble beginnings we have created a network of 10 Yorkshire Bank Bike Libraries across East Yorkshire in partnership with Welcome to Yorkshire.
"We also have improved facilities to deliver more affordable bikes to those who need them and increase our cycle mechanics training programme."
The bike libraries provide free loan bikes for up to a year to children who would otherwise miss out on cycling. Participating schools include Boothferry and Parkside schools in Goole; Beverley St Nicholas Primary School, Beverley; Driffield Primary School; Hilderthorpe Primary School, Bridlington; Mount Pleasant C of E Primary School, Market Weighton and St Georges Primary School, Hull.
R-evolution has refurbished a former East Riding of Yorkshire Council training site to provide new workshops for re-building cycles and classrooms for training programmes.
The extra capacity will enable R-evolution to launch an affordable transport for work cycling scheme for low income families based at five industrial estates.
Mr Marshall said plans were also advanced to create seven new school based bike libraries with five located at secondary schools and two at primary schools.
The charity also intends to hold more than 100 events in locations across East Yorkshire as part of its programme to promote cycling and walking.
The new centre will be opened on October 12 at 10am by the Chair of East Riding of Yorkshire Council, Councillor Caroline Fox.
Councillor Fox said: "The opening of R-evolution's new centre in Cottingham is really good news for the charity and for the East Riding.
"The council is a keen supporter of cycling as both a leisure activity and as a sustainable mode of transport. Getting people out and about on two wheels helps improve health and well-being as well as cutting down on emissions associated with motor vehicles.
"R-evolution does great work in making cycling accessible to all and in supporting people to learn new skills, increase their confidence and take advantage of a range of employment opportunities."
Sir Gary Verity, Chief Executive of Welcome to Yorkshire, said: "The Yorkshire Bank Bike Library is a truly unique scheme launched as a legacy of the Tour de France and Tour de Yorkshire, designed to give every child in Yorkshire access to a bike, regardless of their circumstances.
"I am delighted to see R-evolution in Cottingham going from strength to strength and becoming such an invaluable resource to the local community. I hope that the new centre helps the next generation of cyclists to discover the joy of riding a bike for themselves."
Further information on R-evolution can be found at www.r-evolution.org.uk.