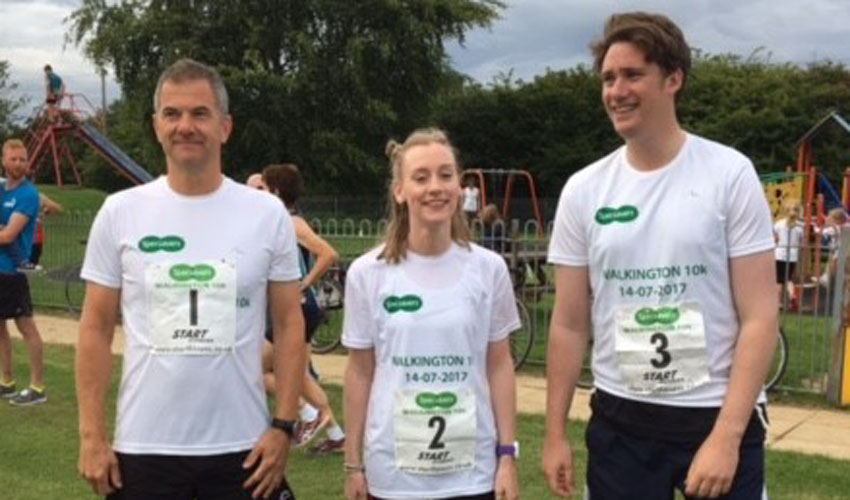 An Optician in Beverley has pledged its support to a local athletics club as it heads into its 25th year.
Specsavers in Beverley is supporting Beverley Athletic Club during its silver anniversary year, a momentous occasion for store director Jeremy Beesly who has been a club member for over four years.
The store was also the main sponsor of the Walkington 10k.
As an official sponsor of the race, run by Beverley Athletics Club, the Specsavers store on Toll Gavel provided sponsored shirts complete with Specsavers logo to be handed out following the race.
Rob Reid, Chairman of Beverley AC, said:
"We are delighted to have Specsavers as sponsors of the Walkington 10k road race. This support is fantastic news for the club as it enables us to invest in new traffic management signage and fund traffic management training for our members who volunteer at this and many other local events."
"It's fantastic having such a well-known national brand supporting the race and it means that the club can carry on promoting well-managed, popular events locally, drawing people in from a wide area."
"All runners in the 10k will received a technical running shirt at the end of the race with the Specsavers logo featuring prominently: we look forward to seeing hundreds of Specsavers t-shirts running round East Yorkshire in the future."
Rob adds:
"The Walkington 10k follows an undulating route out of the village and features several long climbs before reaching Little Weighton at the bottom of a long, speedy downhill mile; then it winds its way back to the finish on Walkington playing field."
"The race has become a firm favourite in the local sporting calendar and we look forward to greeting runners old and new in the future."
Store director, Jeremy Beesley, says:
"The team at Beverley Specsavers is really pleased to be able to sponsor causes and clubs local to Beverley, and we'd really encourage those of all sporting levels to get involved with future events in any way they can."
"I've been a member of Beverley AC for a few years and was lucky to be given a club place running the London Marathon last year, so I'm really happy to be able to give something back and support this brilliant local event."