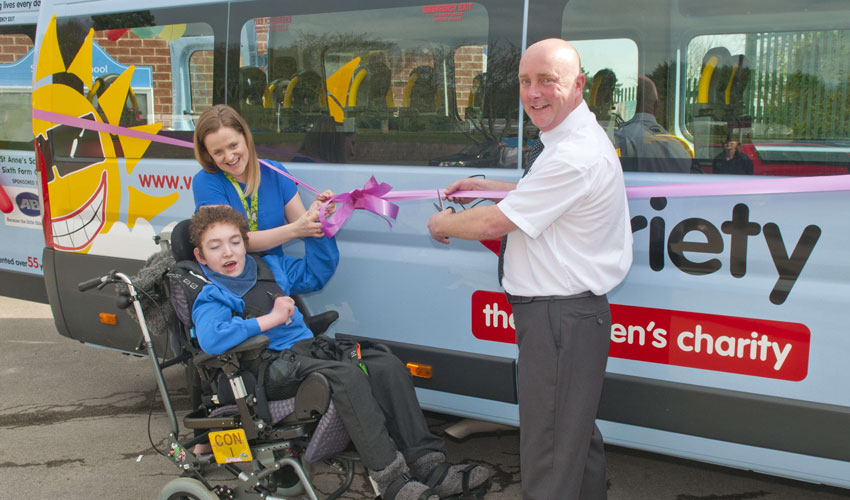 A dream has come true for pupils at a special school in the East Riding, who now have their own coach to transport wheelchair users to activities and events.
The 17-seater Sunshine Coach was provided to St Anne's School and Sixth Form College at Welton by the children's charity Variety, following the success of the school's own fund raising efforts and generous donations from two local companies.
The new vehicle will provide transport for the pupils, who have a range of severe and complex needs, to enjoy regular activities including horse riding, swimming, trampolining as well as trips out.
Teacher Hendi Longman launched the 'Wheels 4 Wheels' fund-raising campaign for a bus with wheelchair access to make it easier to get out and about with her class of wheel-chair users.
Fund raising events, including a ploughman's lunch and raffle, raised £2,000 towards the school's £17,000 target, which was reached with the help of a £15,000 donation from Railscape Ltd, which provides specialist services to the rail industry.
This enabled the school to submit a bid to Variety and the bid was sponsored by East Riding caravan holiday home manufacturer ABI (UK) Ltd, which matched the £17,000 already raised, allowing the coach to be donated.
Hendi, whose own family has been raising money for the fund-raising campaign, said:
"My mum and her partner have just returned from Nepal after walking to base camp at Everest and raising money for Wheels 4 Wheels in the process. They want the money they raise to go towards paying for the activities and therapies that we will be able to access now that we have the transport to get there.
"Our new Sunshine Coach will hold four wheelchairs, which means we can get the majority of my class on one bus. We'll be able to get the pupils to activities such as horse riding and rebound therapy, hopefully on a weekly basis.
"I cannot thank Variety, ABI and Railscape enough. The difference the coach will make to the school is indescribable, and the generosity of Railscape and ABI is quite overwhelming."
Richard Jones, finance director for ABI (UK) Ltd, said:
"We are delighted to be sponsoring this Sunshine Coach, which will benefit the very deserving children and young people of St Anne's School and Sixth Form College, enabling them to have vital learning experiences outside the classroom."