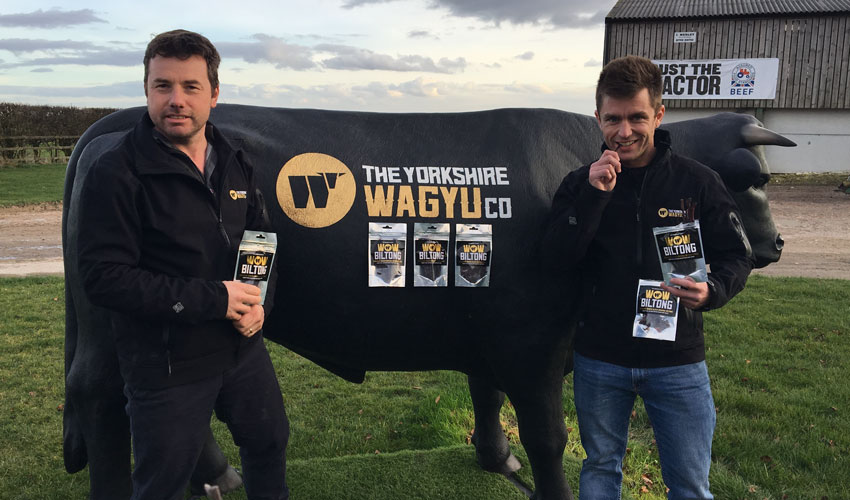 A pedigree beef business from Driffield is aiming to conquer the snack market with its new range of biltong made from one of the world's most highly prized meats.
The launch of The Yorkshire Wagyu Company's Biltong marks the firm's first foray into the charcuterie marketplace and is in response to the growing market for heathy, high protein snacks.
Biltong has its origins in South Africa and is a mildly spiced and salted air dried meat whose name derives from the Dutch BIL meaning buttock and TONG meaning strip.
The Yorkshire Wagyu Company's Biltong is made from prime cuts of grass fed Yorkshire Wagyu that are seasoned with a home produced dry spice mix and dried in a UV cabinet that simulates the South African sunshine.
The biltong caught the attention of South African native and professional motorcycle racer, Bjorn Estment who came across Yorkshire Wagyu through junior saloon car champion Katie Milner, who is sponsored by the beef business.
He said: "South Africans grow up snacking on biltong and this one is so authentically brilliant that I could have sworn I was back home in South Africa at the local biltong deli.
"As a true lover of biltong in all its forms, I can only say a massive well done to the team for hitting the nail on the head and getting the product absolutely perfect."
The Yorkshire Wagyu Company co-founder, farmer Jonathan Shepherd said: "We're always looking to innovate and bring new products to the market and we want as many people as possible to have the opportunity to experience the unique taste of Wagyu.
"This biltong brings something new and different to the snacking market because it is made from Wagyu that have grazed in the Yorkshire Wolds. Add to that the high protein and low carbohydrate content, you can see why it is a popular choice of snack with sportsmen and those following the paleo diet."
The initial biltong range comprises Biltong Slices, Paleo Biltong Slices, Biltong Bites and Biltong Sticks. Available online at www.theyorkshirewagyucompany.co.uk, each 50g pouch costs £4.95, including free delivery.
The Yorkshire Wagyu Company's online shop opened last month and products range from £25 gift vouchers to the Wow Box butcher's selection, priced at £150.