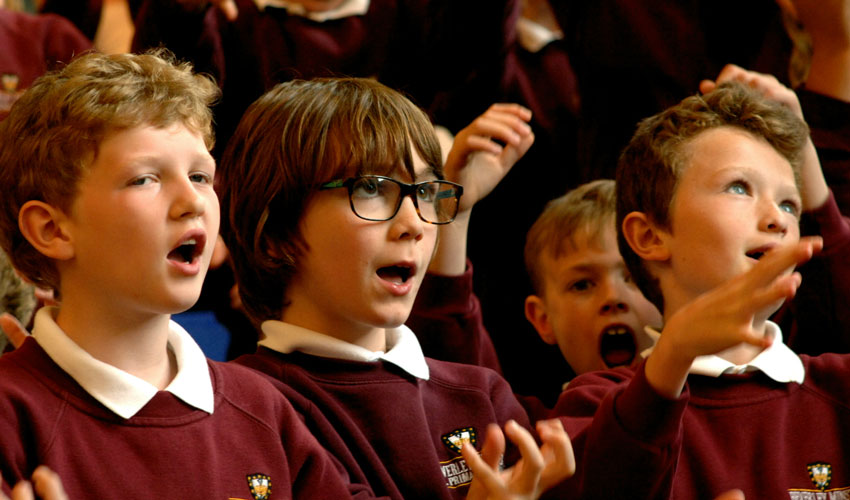 2017 marks the coming of age of the much loved Beverley & East Riding Early Music Festival, (Friday 26 – Monday 29 May) as the Festival celebrates its thirty years of music-making alongside an extraordinary year for culture in the region, as Hull is 2017 City of Culture.
Initiated by the local authority, with the aim of attracting visitors to the area to discover a rich medley of history, striking architecture and music of the past, over the years the Festival has grown to be recognised as a 'jewel in the cultural crown' of the region, attracting internationally renowned performers of early music to appear in a programme alongside emerging youth ensembles and engaging community projects.
In this landmark year, the Festival, organised by the National Centre for Early Music, York, (NCEM), in partnership with East Riding of Yorkshire Council, will present its most special programme to date.
The historic Yorkshire market town of Beverley will be filled with some of the world's finest musicians, including The Tallis Scholars, The Carnival Band and La Serenissima. And to join in with the broader regional Capital of Culture activities, the Festival this year incorporates a visual exhibition of one of the most extraordinary pan-European music collections in history, Through the Looking Glass, an exhibition of illustrated music manuscripts, which runs from 25 May – 16 July in Beverley Minster.
Delma Tomlin, Festival Director and Director of the National Centre for Early Music says,
"The partnership with Beverley Borough Council, and now Beverley & East Riding Council, has been an absolutely delightful one, and we are grateful for the continued support and enthusiasm displayed for the Festival. We began all those years ago with a dozen events, including practical demonstrations of the making of musical instruments and street entertainment, and the Festival has grown in size and in stature since then. With the addition of the touring exhibition, we are confident that the programme in 2017 is one of our best ever."
Councillor Richard Burton says,
"We are delighted to still be promoting and celebrating the fantastic Beverley & East Riding Early Music Festival thirty years on. This has always been a highlight festival in our annual events calendar, as it reaches out to encompass the local community and their activities, in addition to drawing in new visitors.
"The council originally requested the creation of the event to promote the region and its many historical venues, and thirty years on we can still say that the festival continues to make a positive contribution to our community."
The exhibition Through the Looking Glass in Beverley Minster is the first of its kind for the Beverley Early Music Festival in this cultural year, and it arrives direct from Antwerp Cathedral, ahead of a pan-European tour, before going on to New York.
The music manuscripts of Petrus Alamire – musical scribe, composer, singer and producer, are some of the most decorated illustrated choirbooks in history.
They portray the opulent world of the 16th century lived in by rulers and musicians amongst others. The media installation, 'Speculum Musurgica' by the Belgian contemporary artist Rudi Knoops, invites visitors to discover up-close the world of the musicians at work.
This exhibition also provides a central point for the influences of the festival programmes, with many of the performances and family activities taking their inspiration from the many great and varied works of Alamire.
Ticket prices range £3 – £30 www.ncem.co.uk/bemf
Book your accommodation now at: www.visithullandeastyorkshire.com/
2017 Festival Programme
▪ Of Shoes and Ships and Sealing Wax
Beverley Grammar School students directed by Zoe Hughes and Pupils from Beverley Primary Schools.
Based on the Festival's exhibition of illuminated manuscripts, Of Shoes and Ships and Sealing Wax introduces primary and secondary students to the music of the past, and helps them to make sense of it in a modern world. Throughout the month leading into the Festival, student mentors from Beverley Grammar School and pupils from local primary schools will work alongside professional performers and music students to create their own performances and tales from Alamire's unusual life.
Friday 26 May, 2.00pm – 3.00pm, Beverley Minster
▪ La Serenissima
Vivaldi Double Concertos
Vivaldi – the great Italian composer of the much loved The Four Seasons, left a legacy of around 500 concertos. The programme highlights the genius of his composition for writing double concertos – two instruments of the same kind. The award-winning La Serenissima brings his work to life.
Friday 26 May 7.30pm – 9.30pm, St Mary's Church, North Bar Within.
www.laserenissima.co.uk
▪ A Choral Workshop led by Patrick Craig
As a prelude to the evening's concert by The Tallis Scholars, and to complement the exhibition in the Minster, singers are invited to join Patrick Craig as he returns to Beverley for an exploration of some of the repertoire featured in the Alamire collection. This practical session is open to all voices with reasonable sight-reading skills.
The day concludes with an informal performance, open to all to attend free-of-charge.
Saturday 27 May 10.00am – 4.30pm, Beverley Minster Parish Hall, Highgate.
Application form and music downloads: www.ncem.co.uk/BEMF17workshop
▪ Castello Consort
Laudate
Members of the young international ensemble Castello Consort met whilst studying at The Royal Conservatoire in The Hague and are in Beverley following a busy programme of concerts in Utrecht, Norway and Finland. The concert marks their UK debut and takes inspiration from the religious ceremonies of the 17th century, with music by Monteverdi, Marini, Frescobaldi and Castello. The performers were part of the European Emerging Ensembles programme, a pan-European project that aims to promote new talent in young professional early music.
Saturday 27 May, 1.00pm – 2.00pm, Toll Gavel United Church, Toll Gavel, Beverley
▪ Lost Houses of East Yorkshire: An illustrated talk by Edward Waterson
Nearly two thousand English country houses have disappeared since the 1850s. In East Yorkshire around a hundred houses were demolished, among them Newington Hall, the Greek revival mansion that was home to Edward Waterson's family in the 19th century.
Edward takes the audience on a pictorial tour of the county's heritage. A Chartered Surveyor in York for most of his working life, Edward has written five books on Lost Houses.
Saturday 27 May, 3.30pm – 4.30pm, St John of Beverley RC Church, 5 North Bar Without, Beverley
▪ The Tallis Scholars
Masterpieces of the 16th Century
Festival favourites, The Tallis Scholars, this programme is inspired by the music highlighted in Alamire's illustrated manuscripts, currently exhibiting at the Minster. Alamire published many masses – the Missa Malheur me bat by Franco-Flemish Renaissance composer Josquin, being one of the most famous. From chansons for four voices, to dramatic ten-voice parts, this will be a journey in the architectural splendour of Beverley Minster. The Tallis Scholars are renowned worldwide for their understanding of these 16th century masterpieces.
Saturday 27 May, 7.30pm – 9.30pm, Beverley Minster, Highgate, Beverley
www.thetallisscholars.co.uk
▪ Lucie Skeaping BBC Radio 3's Early Music Show
Join us for a recording of this popular show, which will be broadcast on Sunday 4 June. Presented by the BBC's engaging broadcaster Lucie Skeaping, guests include Andy Watts and Vivien Ellis from The Carnival Band, and the University of York's MA vocal ensemble Cenere, with Brianna Louwen soprano, Rosalind Parker, Helen Hughson mezzo-sopranos, Thomas Brooke tenor and Thomas Lowen bass.
Sunday 28 May, 2.00pm – 3.00pm, The Choir, Beverley Minster. Free of charge
▪ The Carnival Band with Vivien Ellis
Heroines and Tricksters – Women in Balladry
The ever-entertaining Carnival Band mixes dozens of styles of music together with instruments from across the world in a programme inspired by their current quest to rediscover and perform 100 broadside ballads – the pop music of the 17th century. Their subjects included love, politics, battles, crime and monsters. In this concert, women take centre stage and the stories are brought vividly to life with an infectious sense of fun.
Sunday 28 May, 8.00pm – c9.45pm, St Mary's Church, North Bar Within
www.carnivalband.com
▪ Made to Impress or to Sing From? Petrus Alamire's Polyphonic Choirbooks
An illustrated lecture by Thomas Schmidt
The so-called 'Alamire' manuscripts are amongst the biggest and most beautiful manuscripts ever made in the Renaissance period. This talk explores how these fantastic objects could be many things to many people – to be sung from, the pictures to be looked at and interpreted together with music, or admired from a distance in their full glory.
Monday 29 May, 10.30am – c11.30am The Choir, Beverley Minster
▪ Palisander with Rust and Stardust
Dr Dee's Daughter and the Philosopher's Stone
Award-winning recorder quartet Palisander joins theatre company Rust and Stardust, in an exciting new family show of magic, history and science. The tale is told through puppetry and music, and performed on recorders up to 6ft tall.
Set in 1595, Dr Dee's Daughter and the Philosopher's Stone follows young Katherine Dee as she starts her search for the Elixir of Life, a quest her father has abandoned.
Monday 29 May, 2.00pm – 3.00pm Toll Gavel United Church
www.palisanderrecorders.com
▪ The Marian Consort
Breaking the Rules – The Imagined Testimony of Carlo Gesualdo (1566-1613) Composer and Murderer!
The extraordinary life and music of Carlo Gesualdo, Renaissance prince, gifted composer and notorious murderer, is explored. Admired by figures as varied as Igor Stravinsky, Aldous Huxley and Frank Zappa, Gesualdo's fascinating music is brought to life by the melodious voices of The Marian Consort.
Monday 29 May, 7.30pm – c9.30pm East Riding Theatre
www.marianconsort.co.uk/breakingtherules
Festival Exhibition: Discovery Pack for Youngsters
From 26 May – 16 July, younger visitors (aged 5-11) are invited to visit Beverley Minster and pick up a 'Curiouser and Curiouser' discovery pack, to learn about Petrus Alamire's double life as a spy for Henry VIII. Activities include questions about cracking secret codes, creating bespoke illuminated letters and finding out more about the music preserved within the pages of Alamire's amazing manuscripts.
The pack has been created by the National Centre for Early Music, with funding from the East Riding of Yorkshire Council.
Tickets prices £3 – £30 www.ncem.co.uk/bemf
Book your accommodation now at: www.visithullandeastyorkshire.com/
Box Office 01904 658338 / Facebook and Twitter – yorkearlymusic