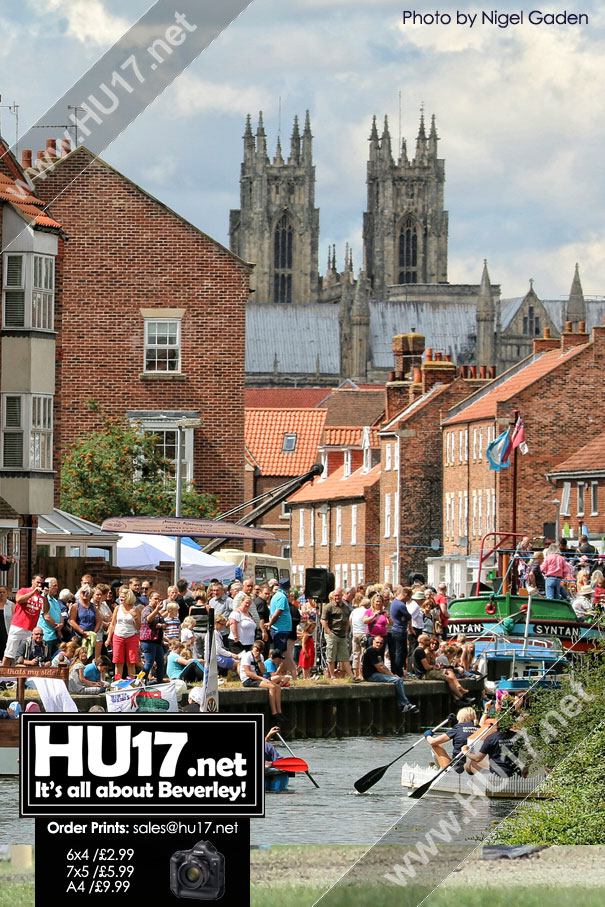 Vera Robinson and Jane Tattam form the charity N.U.R.S.E. who organised the Beverley Raft Race say the event was a massive success both in and out of the water.
Now in is its fifth year the Beverley Raft Race has become a popular community event on the social calendar and is growing in size year in year out.
This year numbers were up again as 12 rafts took to the Beverley Beck with 'The Castaways' being named the eventual winners.
It the job of the Mayor of Beverley Rob Begnett to officially open the event, and he also started the first race.
Speaking to HU17.net about the event Ms. Tattam said;
"For our 2016 Raft Race, we had a total of 16 rafts that were entered and who paid, but only 12 managed to make it to the start line meaning we had one more in the water compared to last year."
"We felt the day was great. It was made even better by the weather being so good with huge crowds on the Beck, there were certainly more people watching than last year."
As the rafts battled it out for the trophy, it was to be a team who since the very start has been taking part that were to walk away with the converted title.
Not only did people get onboard their rafts, there were a range of colourful costumes and creative designs on show.
Commenting on the winners, Ms. Tattam said;
"Our winners 'The Castaways' are a team that has entered every year but is the first time they have gone on to win the event."
"Everyone at N.U.R.S.E. would like to say a massive thank you to all who participated. We are so grateful for people's time and effort. Furthermore, we want to acknowledge the generosity of our sponsors, local businesses and traders."
"But it is as always a special thanks which goes to our competitors who created some magnificent rafts this year and of course, without them, we wouldn't have a successful show and event."
Photos by Nigel Gaden