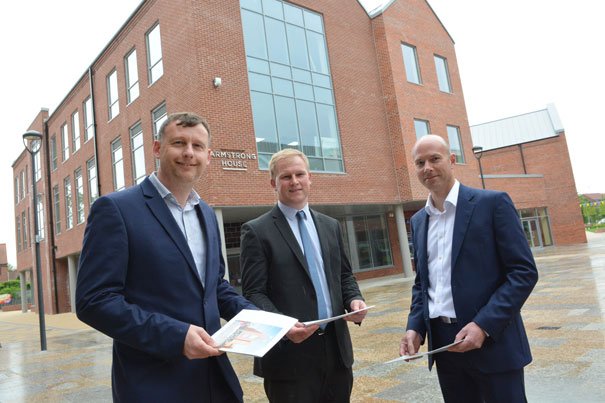 A fast-growing Beverley company has moved into the first Grade A offices in the town – after the entire staff gave the thumbs-up to the move.
Local Transport Projects (LTP) has taken 2,200 sq ft of first-floor offices at Armstrong House, part of regeneration leader Wykeland Group's Flemingate development, attracted by the high-quality working environment with cafes, restaurants, shops and public transport close by.
Directors Tony Kirby and Andy Mayo committed to Armstrong House after inviting their entire team to visit their prospective new premises.
Mr Kirby said: "It wasn't just us who choose these offices. We've got a cracking team who have been integral to the growth and success of the business and we couldn't make a decision like this without their input.
"As part of the decision-making process we brought everyone over to Armstrong House to take a look around and ask them what they thought. They could see the benefits of being here. Their reaction was 'wow! This is great'."
He added: "We have worked with Wykeland for quite a long time, including on Flemingate, so we know the quality of its developments. We're also members of C4DI in Hull – another Wykeland development – and that space inspired us.
"We didn't want to go to a soulless industrial estate. We wanted to be part of the buzz of the town centre. That's important not just for us, but for our staff and recruiting new staff as well.
"We also have a relatively young staff, so it was important we were somewhere that met their needs, where they can socialise after work, can do their shopping at lunchtime and are not reliant on travelling by car, as we have very close access to public transport. Everything is on the doorstep here."
LTP supplies professional traffic engineering, transport planning and highway design services to the public and private sectors, with a diverse client list ranging from individual landowners to major blue-chip businesses. High-profile local projects have included developing the travel plan for the University of Hull campus redevelopment and highways assessment and design work for RB's £105m new research and development centre of excellence in Hull.
The directors formed the company 12 years ago and it now has a staff of 15. Over the past four years LTP has seen turnover increase by 50% and needed now offices to support further growth.
LTP's new offices at Armstrong House are more than twice the size of its current premises in Beverley and the company will move in next week, following completion of the fit-out by Hull-based Chameleon Business Interiors.
Mr Mayo said: "This is a key part of our overall growth plan. We have recruited new staff at a high level to generate more business, so we are investing in new staff and in additional skills for existing staff.
"We have a growing number of clients, locally and nationally, and our clients are asking us to do more for them, so we need the room for our growing team as well as space for further expansion. This is also an opportunity to design the space around the business and create a fantastic office environment.
"As a specialist business, the skills, knowledge and contacts of our staff are vitally important. We need to retain and recruit excellent staff and having a high-quality working environment, with a great location and facilities on site, is a key part of that."
Armstrong House, which is just a stone's throw from the magnificent Beverley Minster and offers Minster views, has a further two suites available to let – 4,000 sq ft on the first floor and 4,000 sq ft on the second floor. The suites can be split as required.
Asset Manager John Gouldthorp said Hull-based Wykeland was delighted that a high-quality consultancy had become the first business to take space at Armstrong House and had committed to the premises before completion.
"LTP has recognised that Armstrong House offers an unrivalled combination of superb, purpose-built offices in a brilliant location," he said.
"The remaining offices present an excellent opportunity for businesses currently in Beverley or looking for a presence in the town to secure premises with the highest modern standards in a central location with great facilities all around."